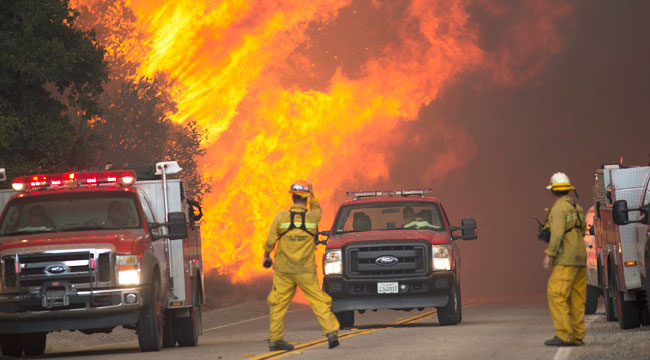 The Northern California fires, which have been burning a football field of land every three seconds, show absolutely no sign of defeat since their Sunday night inception. In fact, they're only growing in size and intensity due to a number of factors that truly encapsulate a perfect storm of conditions. At this point, the Diablo winds fueling the fires are intensifying as projected, so these blazes are almost completely uncontained. Meanwhile, the death toll is continuing to rise along with a growing number of missing persons.
Currently, the New York Times reports that 23 people are dead as a result of these fires. That number will inevitably grow, for the LA Times adds that 285 people are still missing. That's down from a total of 600 missing persons reports, and most of those calls have been made in Sonoma County, where an estimated 25,000 people evacuated from their homes. In all affected counties, a total of 50,000 people have done the same.
And sadly, there's not much that firefighters can do right now other than engage in preemptive containment strategies ahead of blazes. Once the fires advance, there's nothing to stop the flames until rain arrives at some point in the indeterminate future. The Diablo winds died down a little on Tuesday but are back in full force now, and there's another destructive pattern that further fuels the fires at night:
[There is a] day-night pattern to the winds. They tend to subside during daytime warmth, but as the land and atmosphere cool at night, the pressure gradient between the Great Basin air and California's air increases. "The winds just pick up phenomenally," said Norman Miller, an emeritus professor at the University of California, Berkeley.
Meanwhile, the infernos continue to add more counties to their roster, and whole towns are still being evacuated. At least 3,500 structures (both residential and commercial) are now gone with more to come.
In short, there's little relief from Mother Nature for California residents, and for more perspective, here's an auto-updating Google map that illustrates the current locations of the infernos.
(Via LA Times, New York Times & ABC 7 in Santa Rosa)