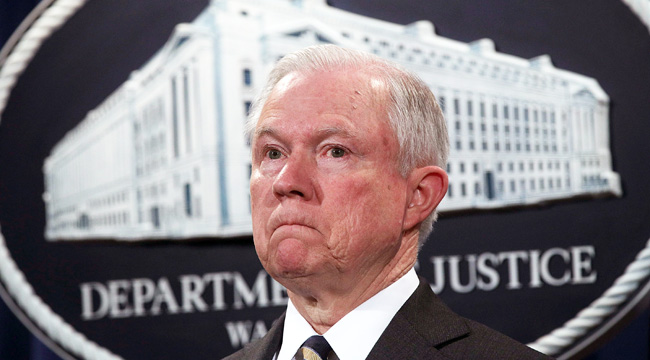 In past presidential administrations, you were more likely to hear the word "leak" in a disposable diaper commercial than on your nightly news. If it seems like the opposite is now true under Trump, you're not entirely wrong. Even the Department of Justice has had to admit that leaks are a rampant problem. So rampant, even, that Attorney General Jeff Sessions says there are three times as many leak investigations during the Trump administration so far as during the whole Obama administration. That's both a testament to the scale of the plumbing problem and Session's eagerness to show the President he's working to fix it after Trump called him "weak" on leaks last week.
After some anticipation, Sessions discussed in a prepare statement the National Insider Threat Task Force established in 2011 to combat the release of unauthorized information. "First, let me say I strongly agree with the President and condemn in the strongest terms the staggering number of leaks undermining the ability of our government to protect this country," said Sessions. "We are taking a stand. This culture of leaking must stop."
The Department of Justice found that leak investigations were too few and far between, and they didn't have enough resources to get results. Sessions called for more collaboration between intelligence and the DOJ to end a "culture of leaking." He asked his deputy Rod Rosenstein and FBI Director Christopher Wray to personally tackle the "surge" of leak investigations, has gotten the National Security Division involved, and has "tripled the number of active leak investigations." Much of this new flurry of activity is at the behest of the President, who is concerned not only about illegal leaks of classified information but also leaks of a more benign, but unflattering, sort.
Sessions isn't the only one who's gotten an earful about how much Trump despises leaks. James Comey jotted down in his memos an exchange in which President Trump suggested jailing reporters who publish classified leaks. Anthony Scaramucci, during his ten days in Trump's service, threatened to "fire everyone" over leaks. Even Reince Priebus was accused of being a leaker. However, it's the Attorney General who has born the brunt of the President's frustration, even though the President himself has leaked classified information on a couple of occasions, much to the chagrin of the State Department, intelligence community, and international leaders. Sessions is on the case, however, and he has "this warning for would-be leakers: Don't do it. The Department of Justice is open for business."