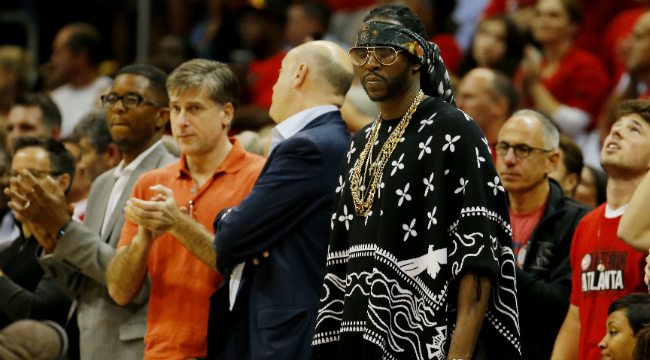 2 Chainz is one of the biggest ballers in the game, whether thanks to his killer bars or his incredible web show. He's also a baller in the literal sense; at 6'5 he was a Division I basketball player for Alabama State before leaving school to jump start his rap career.
Fans of the rapper knew this already, but few of us had much conception for how good of a player he truly was — beyond good enough to play D-I, that is. Well, would you like to hear about it from the assistant coach who recruited him, Alabama State's Clayton Harris? Of course you would:
"I first saw him play when I was up recruiting one of his teammates named Robert Jackson," Harris said. "His skill was unbelievable."

Harris began to track Epps progress as a player from the time he was in 11th grade at North Clayton High School (College Park, GA), and said he was impressed with his versatility as a player. Epps was adept at playing three positions: point guard, shooting guard, and small forward.

"I know you're going to think I'm crazy, but he reminded me of George "The Iceman" Gervin with his body type and the stuff he could do on the floor," Harris said. "He was real slick."

Mid-Major Madness' interview with Harris also unearthed a brief glimpse of the young man who at the time went by Tauheed Epps, and it looked like the boy had some bounce:
2 Chainz played college ball in Alabama State, but he was born and bred in Atlanta, so you'll forgive him for repping the Hawks more than the ASU Hornets these days.
(Via Mid-Major Madness)