The 2019-20 NBA season begins on Tuesday, and to get you ready for what has the potential to be a chaotic year, Dime's staff came together for a series of roundtables to preview the campaign. Today, we take a look at the Western Conference.
Previous roundtables: 2019-20 Eastern Conference preview.
Which team finishes with the best record in the Western Conference?
Christian Rivas: I may be overvaluing continuity here, but the Nuggets were built to be successful regular season team and have the potential to be even more.
Nekias Duncan: I'm going to roll with the Rockets. They have some half-court issues to work out before the playoffs, but Moreyball should rack up plenty of regular season wins.
Konata Edwards: Denver, it feels like they're deep and built for regular season ball.
Chris Barnewall: The Clippers are going to blitz the regular season in an entertaining but terrifying way.
Jamie Cooper: I'll say the Utah Jazz come out of left field and surprise us all. With respect to Ricky Rubio, they got a major upgraded at point with Mike Conley, who's just as good a defender but also a reliable outside threat. They've had the best defense in the league the past two seasons, and I think now is the time they put it all together (in the regular season, at least).
Sabreena Merchant: The Rockets. I still trust James Harden during the regular season more than any of these untested combinations.
Brad Rowland: Give me the Jazz. There isn't a ton of confidence in that but, one of these years, Utah is actually going to over-perform its point differential and this is their best roster during this recent run.
Katie Heindl: The Clippers or the Jazz. Clippers in a way you want to watch and the Jazz in a slow, I wanna say rhythmic, way.
Robby Kalland: It's important to note that it won't matter, but I'll say the Houston Rockets because Russ and Harden are going to want to play all 82 games and their biggest issues won't pop up until the playoffs.
Bill DiFilippo: I'll go with Utah. They have a deep and talented squad, and most importantly, they don't seem like a team that will take their foot off the gas at any point during the regular season. That'll cost them when the playoffs roll around, but it's a good way to win a whole lot of games.
Which L.A. team is better in a seven-game series?
Duncan: The Clippers. They have way too much depth on their side.
Edwards: The Clippers, depth and coaching matters.
Barnewall: I will not pick against LeBron James in a seven game playoff series and you can't make me despite all logic telling me otherwise.
Cooper: I'm with Chris on this one. I won't ever pick against LeBron in a seven-game series. End of story.
Merchant: I would love to know which players were healthy heading into said series, but I'd probably lean Lakers just because of home court.
Rivas: The team with LeBron James. If he's not available, then the team with Anthony Davis.
Rowland: As currently constructed, I'll take the Clippers. The caveat there is that the Lakers may make a move (or two) to upgrade during the season but, from a depth perspective, the Clippers have a lot more to offer. While I'd rather have LeBron and Davis than Kawhi and PG, the gap isn't THAT wide.
Heindl: While the Clippers are sneaky-deep, there is still something untested in them and a bit too combusting. Like some of my wise colleagues have said, LeBron James just has one, or a dozen, more gears when it comes to shifting critical games. The proof is how many times he's broken my Torontonian heart.
Kalland: Clippers in 6.
DiFilippo: I have no idea who on the Clippers would successfully check Anthony Davis for 40+ minutes a night. I think betting against LeBron in a seven-game series with legitimate talent around him is insane. Having said that, man, this Clippers team has 10 good-to-excellent NBA players, including an MVP candidate from last year in Paul George and basketball's Kingslayer, Kawhi Leonard. To echo Robby, Clippers in 6.
Which dynamic duo out west interests you the most, whether it's a new one or an established pairing?
Duncan: Nikola Jokic and Jamal Murray. We know Jokic is an MVP-caliber player. If the mindmeld between he and Murray grow stronger, they could propel the Nuggets to legit contender status.
Edwards: Steph Curry and D'Angelo Russell. I know they're new, but can they score enough and defend well enough to keep the Warriors in the top half of the west?
Barnewall: I am really excited to see how the Rockets plan to best utilize Russell Westbrook and James Harden. Both are former MVPs that dominate the ball. Is anyone else ever going to dribble the ball?
Merchant: Zion Williamson and Lonzo Ball, and it's not particularly close. Those two running on the break have already inspired me to watch preseason basketball.
Cooper: So many great ones to choose from, but I can't wait to see how Jaren Jackson Jr. and Ja Morant work together this season. It's a new era in Memphis, and they have one of the most tantalizing young duos in the league.
Rivas: I'm really interested to see whether or not Luka Doncic and Kristaps Porzingis will play well together or play well separately, but on the same team.
Rowland: It is cool as an NBA observer that there are a bunch of choices here, but I'll be fascinated by Westbrook and Harden in Houston. I think we know that LeBron and AD will work and the PG/Kawhi combo should be what it is projected to be. There is real uncertainty with the Rockets and that is fun.
Heindl: Anthony Davis and LeBron James, for two who seem so sorted out but I think will have some missteps by virtue of it being the Lakers. Russell Westbrook and James Harden will be fun, different magnets each time, that is if they even see a lot of time on the court together.
Kalland: We've been talking about AD and LeBron playing together for a year and they're now together the situation that seems to have the most questionable supporting cast. I'm fascinated by how that pans out, both in the regular season and the playoffs, because they are going to be spectacular but can they lift the Lakers to the Finals.
DiFilippo: Just to mix it up a bit, I know I said Utah for my first answer, but boy, am I fascinated in watching Mike Conley with a guy who can create on the perimeter for the first time in his career, and I am equally fascinated in watching Donovan Mitchell next to one of the league's premier floor generals, free of the burden of having to do way too much for the first time in his career.
Who is the most dangerous team out west that's flying under the radar?
Duncan: The Utah Jazz. They'll need to completely avoid the Lakers matchup, but they're good enough to beat anybody in a series.
Edwards: Utah, I think they're the most complete team out West. They're a matchup nightmare for anyone defensively.
Barnewall: Denver is too good despite what some outlets might think about its chances, but I think Utah is going to be a team nobody wants to play in the first round. That Mike Conley addition is so big for them.
Cooper: After watching what the Nuggets were capable of up close last spring against the Blazers, they are definitely the most dangerous team out West in my book.
Merchant: The Spurs are perpetually under the radar, and I'm pretty certain they're going to take a playoff spot from a team that was expecting to make the postseason.
Rivas: Is it too soon to say the Warriors? Sure, Jacob Evans might be their best wing until Klay Thompson comes back, but they also have Stephen Curry.
Rowland: Utah is probably the answer if they are considered off the radar. The playoff foibles are what they are but the Jazz are set up for success.
Heindl: Blazers. You don't know what that cold, Pacific coast air is going to do for Hassan Whiteside. Also there is a continuity from how Portland went out that I believe is going to carry over, a new steadiness from determination to land higher on the seeding heap of the West.
Kalland: I don't think Utah or Denver count as under the radar, so I'll say the Spurs. There are zero expectations in San Antonio this year for a pretty solid group that gets Dejounte Murray back and simply knows how to find their way to the playoffs. Once there, they won't be fun to go against and I could see them pushing one of the top teams to a six game series and making for some sweats.
DiFilippo: There's something about the Spurs this year that fascinates me. I am very, very concerned about their shooting when they play Dejounte Murray, Derrick White, and DeMar DeRozan together, but they always figure that out and Gregg Popovich hates threes, anyway. But there's a lot of talent here, I love Murray, and the pairing of him and White is in the conversation for the best defensive backcourts in the league. Also, LaMarcus Aldridge is immortal and will put up 21 and nine boards forever.
Which team ends up being the biggest disappointment?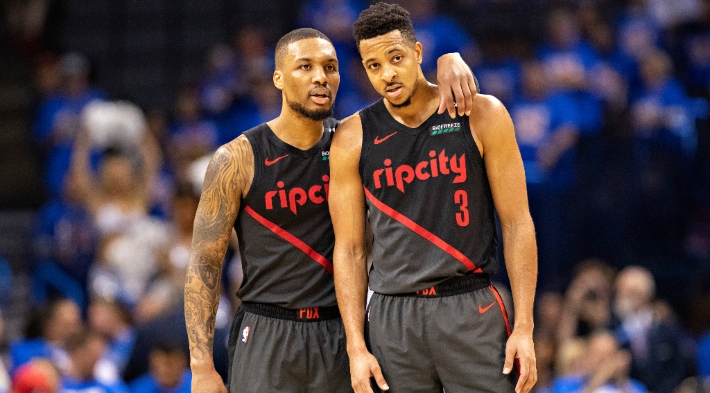 Duncan: The Blazers. Maybe I'll be right this year.
Edwards: San Antonio. At some point the magic has to run out right? That team NEEDS an infusion of lottery pick level talent and they don't have it yet.
Barnewall: Minnesota. Is it possible for a non-playoff team to disappoint? I have a feeling the Wolves are going to be even worse this year.
Cooper: It's hard not to anticipate some regression from the Blazers. I have my doubts about Whiteside, even if he's more of a stopgap measure until Nurkic returns. They lost a lot of what made them dangerous in the first place this summer, and in their place a bunch of question marks.
Merchant: Dallas. Like what Chris said, I'm not sure how much a non-playoff team can disappoint, but I think it's going to take some time for that Doncic-Porzingis combination to really come together.
Rivas: The Kings. They're young, talented, athletic and deep, but I'm not super confident Luke Walton is the right guy to get the best out of them.
Rowland: I don't see it with the Blazers but a lot of people have said that before and been wrong. Dallas is another candidate, simply because the roster beyond the top-two (and there is uncertainty there with Porzingis anyway) is quite shaky.
Heindl: Is it a cop out to say there isn't one? The teams you know will do badly, like the Wolves, the Grizzles, Mavs, just will, and the ones who won't… won't. Western Conference very zen.
Kalland: Fine, I'll do it. The Lakers. They're going to be a very good team but one that has title expectations and I don't think they come out of the West, as such, making them a disappointment.
DiFilippo: God, do I hate that I am going to say the Warriors for this. It's like staring death in the face and taunting it. Steph Curry will have a monster season, D'Angelo Russell is going to be great in this role, and Draymond Green knows he can't wait until March to get in shape … but boy, is this roster thin beyond them until Klay Thompson gets back. They'll make the playoffs, but they'll be in a fight for their lives to get there.