The 2019-20 NBA season begins on Tuesday, and to get you ready for what has the potential to be a chaotic year, Dime's staff came together for a series of roundtables to preview the campaign. Today, we take a look at the Eastern Conference, which boasts two of the best teams in the league and then a whole bunch of question marks.
Who is the best team in the Eastern Conference?
Christian Rivas: The Bucks, although I'm not in love with their guard rotation. Then again, they basically have a 6'11 point guard, so does anything else really matter?
Nekias Duncan: The Sixers. Their starting lineup is absolutely ridiculous.
Sabreena Merchant: Bucks. They know exactly who they are, and no one can really prepare for Giannis during the regular season.
Konata Edwards: Milwaukee, and I'm not sure it's close. Philly still has too many issues with perimeter shooting and guard play for me to trust them.
Chris Barnewall: I'll take the Bucks. They have the depth to stay fresh through the tougher spots in the regular season that the Sixers will sleepwalk through.
Jamie Cooper: I'm going with the Sixers. They're loaded, and Al Horford gives them a dimension they've never had with both his veteran leadership and versatility.
Brad Rowland: It's a two-team race but I'll go with Milwaukee. There is enough uncertainty with Philadelphia's offense to push me in this direction, simply because we essentially know what the Bucks will be and it's pretty impressive.
Katie Heindl: Need to be a patriot here and say Toronto, and I say that without blinders on to the powerhouses poised in the wings — the Sixers, Bucks, even the Nets. Toronto knows its steps, has the chemistry, and is coming into the season on a confidence it has never allowed itself, or really been allowed to have.
Robby Kalland: Philly's defensive potential makes me lean them over the Bucks. In a playoff series I think they're going to be a terrifying matchup for just about anyone, and if they find enough shooting I think they'll be in the Finals.
Bill DiFilippo: I think Milwaukee is built to be better over the course of an 82-game season, but over a seven-game series, I trust Philadelphia's ability to lock the Bucks down defensively, especially with the number of bodies they can throw at Giannis Antetokounmpo. It's a coin flip, but I'll narrowly go with Milwaukee. Giannis + shooters = good things.
What team is everyone sleeping on heading into the season as a surprise playoff squad?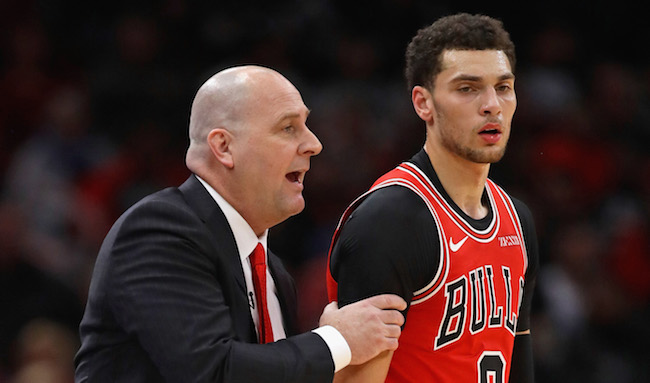 Rivas: The Hawks, if for no other reason than the fact that they have more than four legitimate NBA players on their team, which is more than the rest of the bottom half of the Eastern Conference can say.
Duncan: The Hawks. They'll have to be a top-25 defense somehow, but the firepower is there.
Merchant: By my estimation, there are five teams with zero chance of making the playoffs in the East, so I'm going to take this question in a different direction. Toronto is virtually assured of making the playoffs, but the Raptors will surprise by winning at least one series.
Edwards: Orlando. Depending on their matchup, I think they're good for two rounds in the playoffs.
Barnewall: I understand not trusting the Bulls, but in an awful bottom half of the East, someone has to rise to the top and the talent there is the best of the bunch. It just depends on if the players get sick of Jim Boylen or not.
Cooper: The Hawks are the safe pick here, but I'm gonna go out on a limb and say the Bulls. They have a whole lot of young talent, and both LaVine and Markkanen should be fully healthy.
Rowland: It's the Bulls for me. That could be submarined in a hurry if Coby White has rookie point guard problems on a grand scale, but Chicago quietly added strong veteran help and there should be improvement from in-house options.
Heindl: The Nets. I do really have this feeling Kyrie Irving is going to come out the way he was promised to but never did in Boston, and Jarrett Allen is the sweetest, kindest, baby-faced assassin ready to ruin a whole lot of years for many players.
Kalland: It's going to come down to health, but I think if their main guys can stay on the floor, Chicago has a really good shot at being a playoff squad. Satoransky and Young are really good additions and if Porter stays healthy they'll be a really good offensive group with he and LaVine.
DiFilippo: Going to join in on the Bulls chatter. I have my concerns about Jim Boylen as a head coach, but they have a roster that really intrigues me. While I don't know if they have a star, they have a bunch of solid NBA players (Tomas Satoransky hive, rise up), and if Wendell Carter can stay healthy, that frontcourt with him, Lauri Markkanen, and Thad Young is going to be a problem for opposing squads.
Is this a two-horse race between Milwaukee and Philly, or are there other teams that have a shot at winning the conference?
Rivas: Give me all of your Indiana Pacers stock.
Merchant: Two-horse race. Only Milwaukee and Philly have the star power to really contend, unless there are some major moves in the East.
Duncan: It's definitely a two-horse race … unless Bradley Beal gets traded to Miami.
Edwards: Two-horse race.
Barnewall: There is a scenario where the Nets young players break out and Kyrie Irving explodes into what everyone in Boston wanted him to be, but it's more than likely a two horse race.
Cooper: My heart really wants to say Toronto and to point to Siakam's rise as a parallel to Kawhi when he won with the Spurs. They basically have the same roster, sans Kawhi, though several of those guys are aging rapidly. This is admittedly a foolish pick on my part, but so be it.
Rowland: Barring significant injury, I don't see another option as currently constructed. Things could certainly change with an in-season trade but, for now, there just isn't that No. 3 team.
Heindl: You guys! The Eastern Conference is going to come down to playoff seeding. I don't see any team as a sure thing against some errant, weirdly vibrating team like the Orlando Magic or, like, the Pacers not getting the memo that they aren't supposed to be there. The East is a mess and you have to embrace that.
Kalland: There's significant separation between Milwaukee and Philly and the rest of the conference, health pending, of course.
DiFilippo: Health and the trade market can certainly change this up, but we're barreling toward a Bucks-Sixers conference final. Health applies to returns, too: The Pacers are going to be awfully dangerous if Victor Oladipo comes back early and gets to 100 percent, and while he should not play this year, Kevin Durant's return looms large. And if the Miami Heat can pair a second star next to Jimmy Butler, I'm paying really close attention to what they can do against Philly or Milwaukee.
Which big name in a new place will make the biggest impact this season?
Rivas: Markelle Fultz. I don't think he'll look like an All-Star in his first year with the Magic, but there's a very good chance he's an above-average backup point guard by the All-Star break.
Duncan: Jimmy Butler.
Merchant: Jimmy Butler. This feels like a cheat, considering he was the biggest name to move in the East, but it has to be Butler. Brett Brown put it best when he said Butler was the adult in the room for Philly. He was someone that team could turn to down the stretch of games, and Miami desperately needs one of those players.
Edwards: Markelle Fultz. Giving Steve Clifford THAT athletic of a point guard is borderline unfair.
Barnewall: Kemba Walker is about to get all the attention of a big market while being just as good as he was in Charlotte. Let the man cook.
Cooper: I have to go with Horford, my old standby. He's gonna make opponents pay dearly on both ends of the floor, and it's gonna take so much pressure off Embiid and Simmons.
Rowland: I'm not sure Jimmy Butler was the best player that changed teams in the East, but he can have the biggest impact. Miami has a bit of an odd roster but having a legitimate No. 1 option should buoy the Heat to the playoffs.
Heindl: Miami Jimmy!
Kalland: Al Horford, who is the reason I think Philly is the best team in the conference. They can play one of him and Embiid for 48 minutes, which will make them so much better than in years past when Embiid had to be off the floor. Together, that duo can work thanks to Horford's ability to space the floor and I just see that as being the move we look back on in June as the one that got the Sixers to the Finals.
DiFilippo: The concept of Joel Embiid being able to recharge his batteries whenever he needs to during the season is exciting. As such, the answer is Al Horford. The Sixers go as Embiid goes, so being able to deploy him at as close to 100 percent once the playoffs roll around is a gigantic boost. It also helps that Horford is a star who can win them games while Embiid rests.
Which team ends up being the biggest disappointment?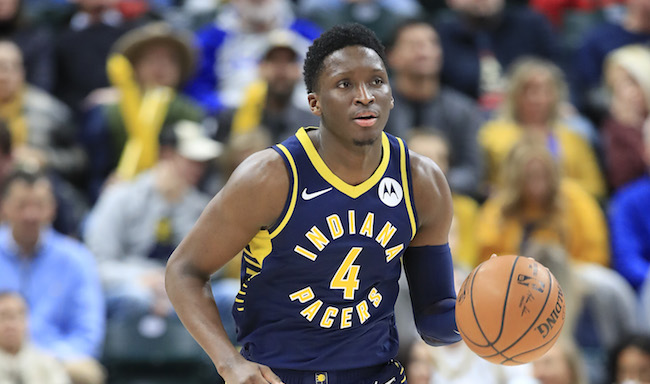 Rivas: The Celtics, unless Brad Stevens plans on playing his starters 48 minutes a night.
Duncan: I'm just not very sold on the Celtics' frontcourt at all.
Merchant: Indiana. I worry about Oladipo's health, I worry about their defense, and I don't understand why Jeremy Lamb and T.J. Warren are supposed to be exciting offseason acquisitions.
Edwards: Indiana. Oladipo shows up later than expected and the team takes entirely too long to mesh this season.
Barnewall: Miami. Jimmy Butler is excellent, but I'm not a huge fan of the pieces around him and how it all fits together. This team is going to be fighting for a playoff spot when they should be fighting for seeding.
Cooper: Relative to expectations, I'm going with the Celtics. I'm not sold that swapping Kemba for Kyrie cures all that ailed them last season, and they lost some serious depth inside with Horford leaving, who is apparently my new favorite player the more I write about the East.
Rowland: It probably depends on one's expectations but the Pacers would be my answer. Part of that is beyond the team's control with Victor Oladipo's injury but Indiana has some roster balance issues and, while they are still likely a playoff team, odds are greater that the Pacers will sneak in, rather than compete for a top-four spot.
Heindl: Surprise, surprise, but the Celtics are poised to be trash once again!
Kalland: Given how many people above picked them as the most likely playoff sleeper, I'll go with the Hawks. They're going to be bad, which should be OK in Year 2 of a rebuild and having lost most of your best veteran players this summer. But apparently, people really think they can be a playoff team and I just don't see how they come close.
DiFilippo: I don't know if they'll be a disappointment, but there's a well-deserved belief that the Pacers always figure things out en route to a playoff berth, and I think that might not be the case this year. A lot depends on what they get back in a potential Domantas Sabonis trade and when Victor Oladipo is able to look like Victor Oladipo, but while I think they probably make it based on how weak the bottom of the East is, it's not a gigantic stretch to imagine them missing the postseason.