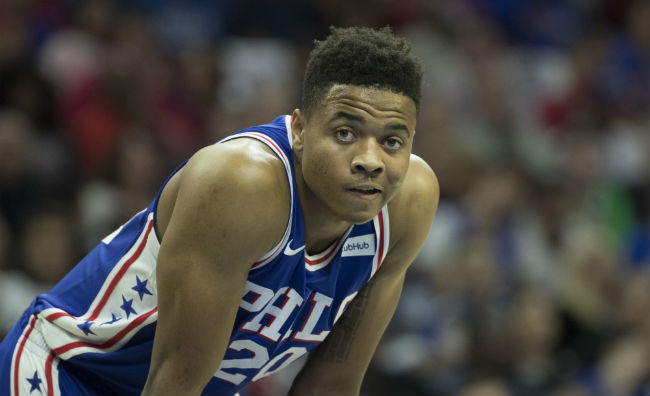 Philadelphia 76ers No. 1 overall draft pick Markelle Fultz and his season-long shoulder issue is hands down the most bizarre storyline of the 2017-18 NBA season.
Despite the fact that Fultz's jump shot looked broken throughout training camp and preseason, the 76ers were reluctant to address the issue until it had gotten too severe to ignore. After weeks of pretending there was no issue with Fultz, the 76ers finally admitted that he had been dealing with some sort of shoulder discomfort and that they would be shutting him down for a few weeks.
Those weeks quickly turned into months, and now we're at the halfway point of the 2017-18 NBA season, and the timetable for Fultz's return is nonexistent. We know virtually nothing concrete about Fultz's injury, but we do know his jump shot doesn't look any better than it did in October when the 76ers shut him down. Fultz has been a limited participant in practice and shootaround, and the footage of his jump shot coming out of those workouts hasn't been promising.
Here is Fultz taking a pull-up jumper during practice with the 76ers in London prior to their game against the Boston Celtics Thursday.
The Philly Voice's Kyle Neubeck shared more footage of Fultz working on his jump shot from practice on Sunday.
We've seen countless fantastic NBA shooters shoot well without conventional form, but Fultz isn't just missing the form; he's not shooting well. The results aren't what the 76ers are looking for, as head coach Brett Brown made clear after practice on Sunday.
Brett Brown was asked if he needed Fultz to be at 100 percent before he would consider giving him NBA minutes again, and according to The Philly Voice, Brown answered, "I think what he needs to be is able to shoot a basketball. I don't know what percent we're going to apply that comment, but he needs to feel he can go and shoot a basketball."
The logical assumption here is that the 76ers don't think he can shoot yet, and that's why he isn't playing. This begs the question, how much of this is a shoulder injury vs. a mental block? We're getting new footage of Fultz shooting every day, and if the 76ers are simply waiting for a shoulder injury to heal, why are we seeing him shoot so much in practice? Something doesn't add up, but that is par for the course with the rest of this story.
Despite Fultz's obvious struggles, Brown hasn't lost faith in his rookie. "I think there still is some [discomfort] from time to time," Brown said. "I think that's part of recognizing there's still some sort of erratic shooting that it's not where it used to be, yet. And I hope everybody writes that 'yet.'"
Brown's emphasis on yet should give 76ers fans some hope that just because Fultz's shot is broken now doesn't mean he isn't going to be the player the 76ers thought they were getting when they drafted him. They just need Fultz to figure this shoulder thing out, and clearly, that's easier said than done.