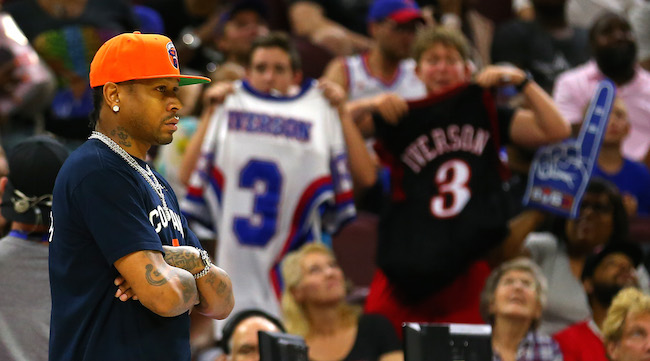 The BIG3 rolled through Philadelphia on Sunday night in one of the most anticipated stops of the season. The headliner of the league since he signed on has been Allen Iverson, not just because he's a Hall of Famer, but because few players in the past two decades have had larger, more passionate legions of fans than The Answer.
Nowhere is he more beloved than in Philly, where he took the Sixers to the NBA Finals and wowed crowds with his crossovers and big shots. Philly fans are notoriously passionate and the opportunity to see Iverson on the court one more time was going to be an absolute treat for the Sixers' faithful.
That was until 25 minutes prior to tip-off at the Wells Fargo Center when Iverson announced on Instagram that he wouldn't be able to play on Sunday night do to an undisclosed injury. That announcement was well after most fans had showed up to the arena, with a number of them in Iverson jerseys, so, for the most part, those in attendance were blissfully unaware of Iverson being sidelined.
Iverson's 3's Company squad was scheduled to play in the fourth and final game of the day against Tri-State, coached by Dr. J. It was a matchup of Philadelphia legends, but on this night neither would play. According to Adi Joseph of For The Win, the Iverson announcement wasn't posted in the arena through the first three games, which meant anticipation for Iverson's return to the court built throughout the first three games. As much as Iverson's absence, the handling of the announcement (or lack thereof) in the arena caused as big a problem as anything.

And so, as the game wore on and Iverson never made an appearance, fans turned on their hero, booing and starting "We Want Iverson" chants that have followed him around the first four stops of the season. Joseph spoke with fans in Iverson gear in the arena prior to the game and learned that he was the one that was breaking the bad news to them, and their reactions were understandable.
In interviewing hard-core Iverson fans, For The Win repeatedly had to be the bearer of bad news. Austin Hendricks and Sarah Pasetsky had driven down to Philadelphia from the Lehigh Valley, about an hour north. Their reaction was common.

"Shut — no!" Hendricks said, exasperated. "Why isn't he playing?"

"This is like a joke, right? Then he'll come out," Pasetsky said in disbelief.

It was an unfortunate circumstance and one that seemed out of Iverson's control. He said doctors told him not to play, although we still don't know exactly what is ailing the Hall of Famer. Iverson's presence in the BIG3 has been one of the driving factors in the massive amount of interest in the league, but it's been clear from the first week that the expectations for how much he'll play were way off from what he planned on doing.
Considering he's the headliner, that was bound to create some problems and Sunday night in Philadelphia was the biggest example of that yet. At other stops, fans have at least caught glimpses of Iverson in his few minutes on the court, where he'll make a shot and earn a roar from the crowd. On Sunday, the only roars were for him in intros, and then slowly fans realized they wouldn't see their favorite Sixer on the court that night.
Moving forward, it's unknown what Iverson's status will be as far as playing games for the next month and a half of the season. If he's held off the court for an extended period of time, it will be interesting to see how crowd size — which have been robust to start the year — hold up. The league likes to think it has staying power no matter the participants, but a big part of their marketing strategy was to boast that Iverson and other stars would be playing and without him they will need to either offer more heads up or deal with backlash once again from angry fans.

The league's co-founder Ice Cube even offered an apology and a promise that next year when the league comes through Philly it will be better.
It's hard to know if that's a promise they can keep, but it's clear that even they see that there's a bit of an issue right now with what was marketed with Iverson's inclusion and what his role has been to this point.