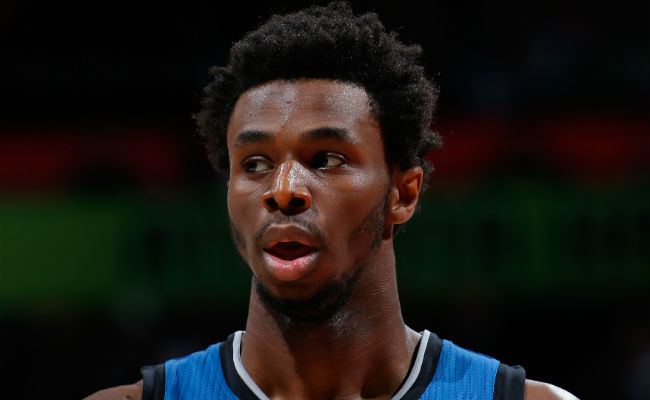 Andrew Wiggins wants a max deal from the Minnesota Timberwolves, and it looks like the team is ready to oblige. Timberwolves owner Glen Taylor told the Star Tribune that the team is working on a deal with Wiggins despite the rumors that Wiggins could be traded for Kyrie Irving.
Earlier in the week, Wiggins told reporters that he is worthy of a max contract, saying he'll take "nothing less." It appears he doesn't have to worry about what the team feels he's worth, as Taylor told the Star Tribune that the Timberwolves agree with this assessment.
"First of all, I think he likes it here, we like him, he can get the very best contract from me, better than he can get from anyone else," Taylor, who also owns the Star Tribune, said in Mankato. "I don't think we have any trouble of offering him the max anyway."
Taylor's point is clear: if you want max money, you want to play in Minnesota. And it's not like the Timberwolves are biding their time, as they're a franchise that's been aggressive this summer in trading for Jimmy Butler. Whether that aggression carries over into a trade for Kyrie Irving — and possibly includes a move that ships Wiggins out before a max contract can be signed — is unclear as of yet, but it's certainly a different kind of attitude from the Timberwolves this summer. Taylor said the team hopes to take care of Wiggins now and then get another Timberwolves star locked up long-term next summer.
Taylor said that the Wolves' plans involve extending Wiggins now and Karl-Anthony Towns next year.

"We are talking to [Wiggins'] agent right now about extending him out another five years, so we can do that," Taylor said. "Karl, we won't do that until next year. Wiggins, we want to sign him to a long-term contract, we want to keep him here, and we're negotiating with his agent. But we just started that negotiation, and we have quite some time to get that done."
Taylor also noted that there isn't much of a negotiation to be had when it comes to money. A max deal means around $150 million for Wiggins, and that's not a number the two sides can really argue about. What matters is whether Minnesota decides to go in a different direction, one that doesn't require extending Wiggins at all.