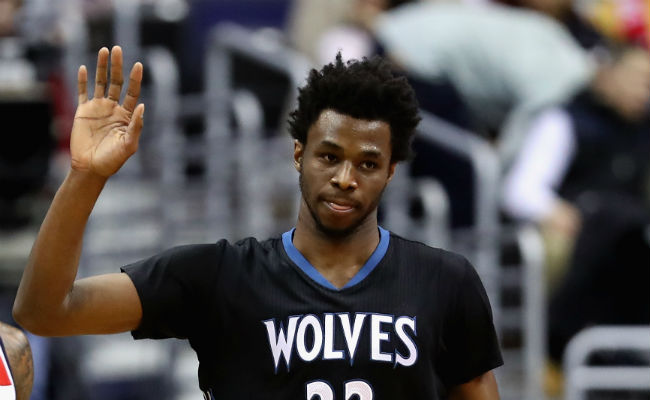 The Minnesota Timberwolves have already had a big summer of change, but they may not be done just yet. Reports indicate taht the team is very interested in finding a way to acquire Kyrie Irving from the Cleveland Cavaliers.
Associated Press reporter Jon Kraczynski reported on Tuesday that the team is looking into an Irving trade with "incredible seriousness," though nothing has been decided with regards to the assets the the team is willing to give up.
https://twitter.com/APkrawczynski/status/890227148811898881
It would be incredibly fitting if the Cavs could reacquire Wiggins for Irving, given that's who they traded away to bring in Kevin Love when LeBron James rejoined the Cavaliers in 2014. It doesn't seem like they'd be willing to give Wiggins up in order to acquire Irving just yet, but it's clear from reports that the Wolves are certainly interested in adding to an already-impressive Minnesota team with Jimmy Butler and Karl Anthony-Towns on it.
Meanwhile, new Timberwolves guard Jamal Crawford told Hoops Hype he'd love to see Irving in Minnesota.
I think it's great. I think now, and in the future, it'll continue to be a destination that guys want to come to. Like you said, they have a great fan base. When I was there last week, you could just feel the electricity. You can see how excited they are, how hungry they are, to have a really good basketball team. I think it's a great place to play. Players want to go play with other great players and they want to be a part of something that's bigger than themselves. To see [Minnesota] linked to a guy like Kyrie Irving, a player of his stature, is cool. It shows that other people think we're going to be good. It's sort of validating; I saw the same thing and that's why I want to be here.
It's a good attitude to have considering that Irving would take a lot of his playing time should a trade like that happen. But Crawford has a good point: good players want to play on good teams. And Irving, though he does not have a no-trade clause, had the Timberwolves on a list of teams he'd prefer. Whether a deal gets done or not, it can only be viewed as a good thing for Minnesota.