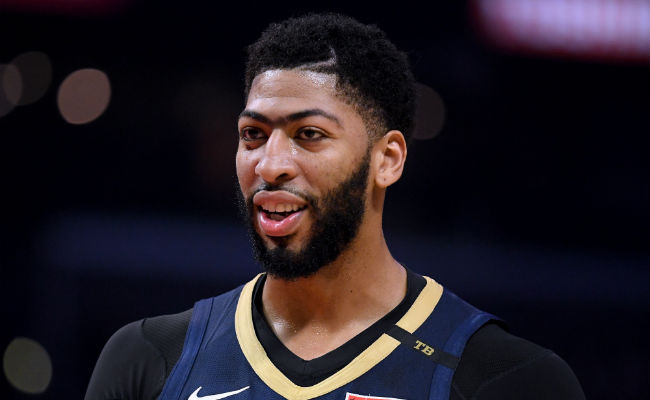 Anthony Davis' future is far from certain as the NBA's trade deadline approaches, but the latest report about the Davis sweepstakes might indicate he actually gets traded this week. It's been a full week now since news broke that Davis had informed the Pelicans he would not sign a supermax extension with the Pelicans, essentially asking the team for a trade.
Word of that request going pubic drew a fine for Davis, as well as a flurry of speculation about where Davis would land. The trade market for Davis is complicated, and one team already essentially dropped out of the sweepstakes (for now) when the New York Knicks traded Kristaps Porzingis last week.
On Monday, ESPN's Adrian Wojnarowsi reported that the Pelicans have been given a "handful" of teams that Davis would re-sign an extension with, which essentially doubles as a list of preferred destinations in a potential trade.
The note that Boston isn't on that list was something that was already publicly reported, though officially informing the Pelicans of a desire to go somewhere other than Boston is significant in that, as Wojnarowski noted later, it may open up the trade market for the Pelicans in the coming days knowing that a better offer might not be found from Boston in the summer.
One intriguing team reportedly on that list is the Milwaukee Bucks, though it seems extremely unlikely that the team could make a trade work considering the assets and contract situation the team has.

Milwaukee has reportedly made everyone on the roster but Giannis Antetokounmpo available in a potential trade, but it's much more complicated than that. But right now, Milwaukee has something that the Celtics — lousy with assets and potential trade pieces — do not: Davis' interest beyond 2020.
The other team on the list, per Shams Charania of The Athletic, is L.A.'s other team, the Clippers.
That isn't a huge surprise, but of all the teams on that list that could possibly push the Lakers for the best Anthony Davis deal (barring the Knicks getting the top pick and making it available), the Clippers can probably put together the strongest package.