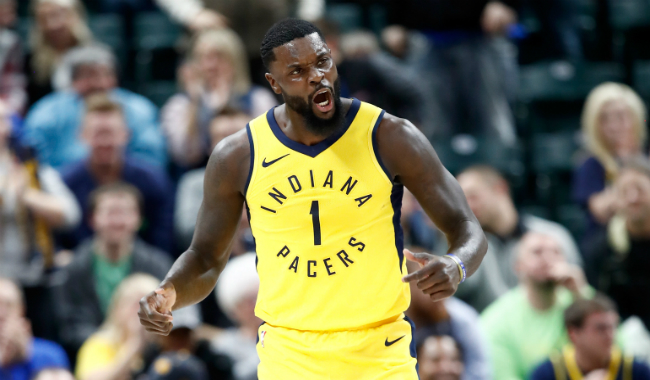 Comedian and New Orleans comedy theater founder Chris Trew is a New Orleans Pelicans fan who has a single season ticket directly behind the visitors' bench inside New Orleans' Smoothie King Center, where he intently listens to and interacts with the opposing team's players and coaches. He will be documenting his experiences here for us in a regular column called Behind the Bench. You can follow his in-game interactions live on Twitter at @ChrisTrew. The Pelicans' opponent in this column: the Indiana Pacers, who visited New Orleans on Wednesday, March 21st.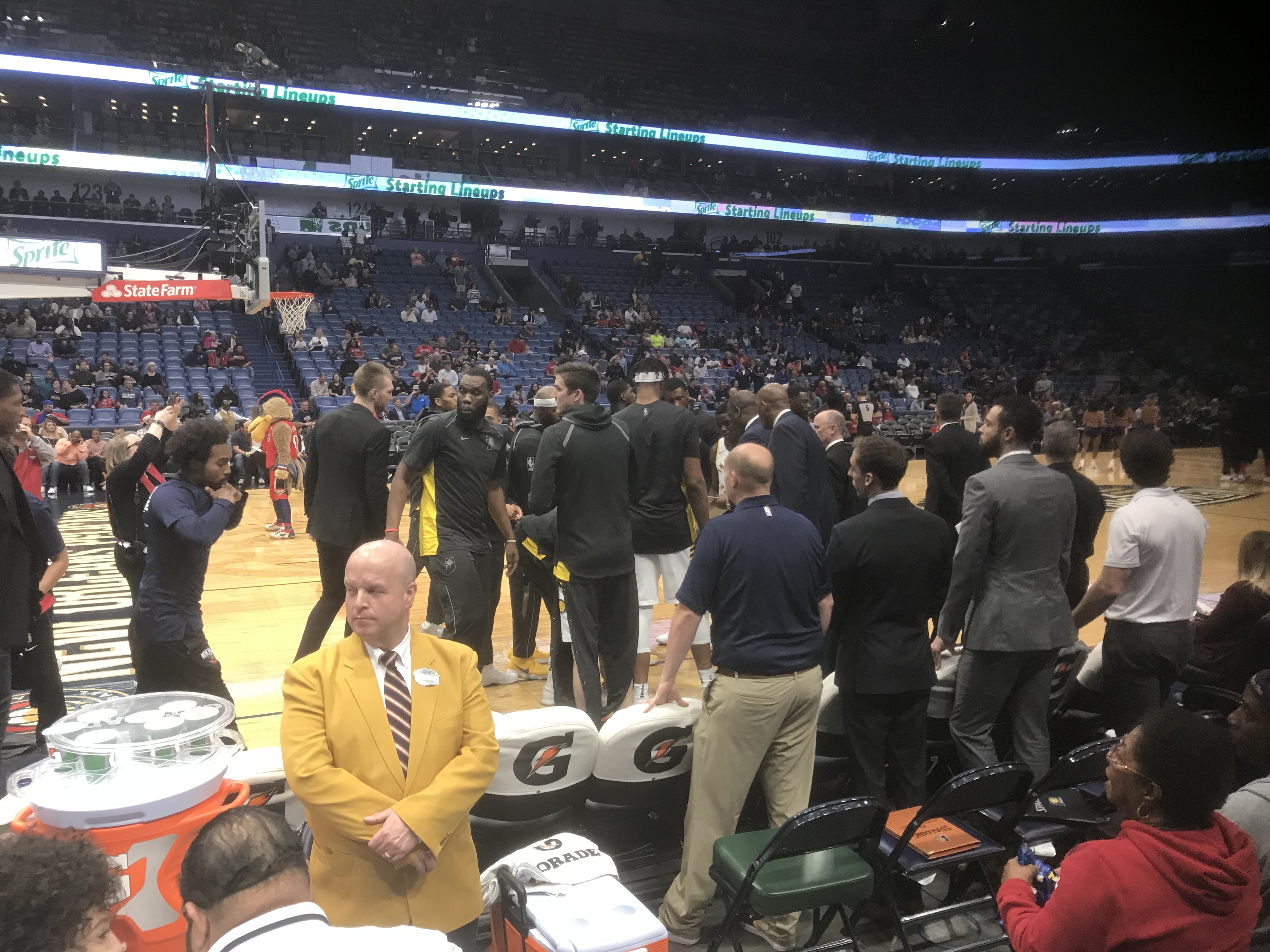 This game was cheeky from the jump, as the Pacers weren't supposed to be here tonight, nor were the Pelicans supposed to be playing their fourth game out of five in six nights. That pesky, leaky roof back during Mardi Gras is why we're here. The New Orleans Pelicans, fully aware of the situation, did all they could to make up for it — free parking, sure; songs during timeouts that evoke water, yeah; a Smoothie King-branded poncho giveaway … hell yes.
None of the players are likely happy to be here under these circumstances, but the Pelicans are bearing the brunt of the rescheduling. Understandable, as it was their roof. Indiana was home two days ago against the Lakers and is back at home two days from now against the Clippers — a New Orleans, LA sandwich with L.A. bread. The Pels, however, played the Mavs the night before, will play the Lakers tomorrow, and also played the Rockets and the Celtics on a back-to-back two ago. That's a buffet line.
During pregame warmups, a totally normal-seeming Pacers fan clutching his autograph book got a signature from a sprinting Thaddeus Young. Moments later, the final Pacer on the floor — a very sweaty Darren Collison — jogged by the Pacers fan, completely ignoring the autograph request.
An Indiana security guard following Collison, witnessing the crestfallen fan, stopped to say "He never signs anything." The fan seemed to think, "Darren Collison, six teams in nine years, 12.7 points per game career average never signs?" Darren was extremely sweaty, so let's blame it on that. The man just had to dry off before jumping back in that pool.
Trevor Booker checked in sometime after "It's Raining Men" banged throughout the arena. He quickly boomed out three hustle plays, and had a different taunt for each one. The first time, a fan called him weak, and he shot back with flexed arms following a dunk. Next was a simple hand extension after a layup in traffic, then a finger point after a jumper. I was pulling for Booker to have a good game, just to see how many taunts he had. The bench seemed to be the most happy whenever Booker scored, so maybe he was having a bad day and everyone was trying to cheer him up.
Al Jefferson was constantly acknowledging fans, in such a jolly, joyful way that it would be hard to hate him even if he carved up the home team (he didn't, but still). One fan kept at him all game long just because he was also from Monticello, MS. Once Al waved and smiled (sometime around when "Blame It On The Rain" was pouring out of the loudspeakers), more fans went after him and he kept waving and smiling. Al Jefferson — one of the good guys.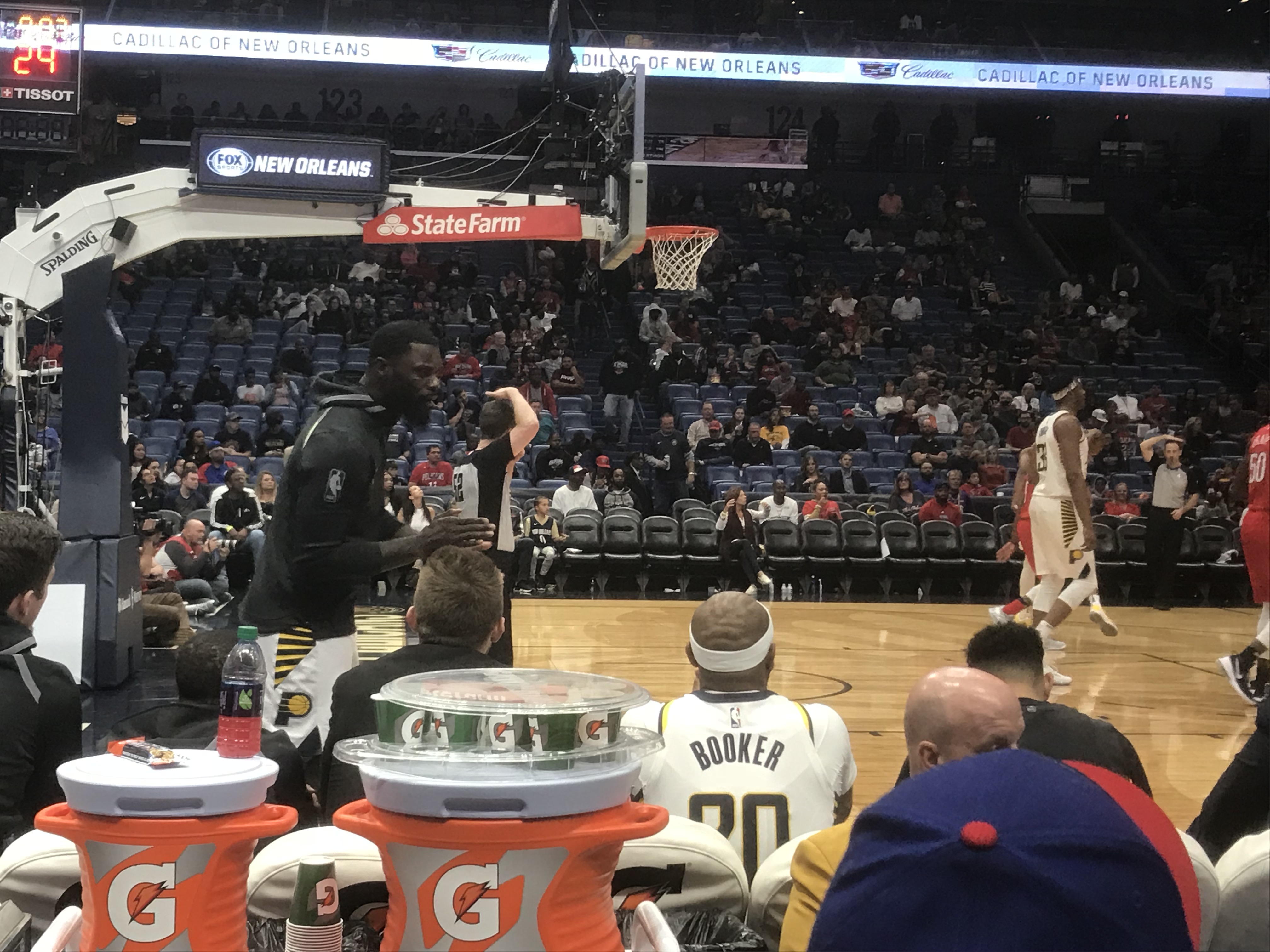 Meanwhile, Lance Stephenson — one of the more peculiar guys. He was straight up being bombarded by a group of Pelicans fans the entire game. Not aggressively, just constantly. He would pace back and forth around the bench, as if sitting down was just not an option. As though if he kept still for more than four or five seconds at a time he would combust, and then the game would have to be rescheduled again due to bits of Lance Stephenson all over the arena.
The first time I sat behind Lance Stephenson, this happened:
Even though he logged a DNP-CD (Did Not Play – Coach's Decision) in this one, Lance Stephenson and I were silently duking it out all game long. During timeouts, I would stare at him while gently combing my beard. Lance one-upped me when he put his hands down his pants and just stared at me right back.

And ever since then, Lance and I have shared a moment at some during the game. This time there were no beards being combed or hands down pants, but it was a mutual sign of respect, a head nod between recognized parties. Lance Stephenson is my brother and I will blow in the ear of anyone who dares attack him.
Other Lance highlights:
After an impressive behind-the-back pass to an open Darren Collison, Lance was visibly frustrated he didn't take the shot, costing Stephenson a highlight reel assist
From the bench Lance screamed "leave him open" every time Rajon Rondo touched the ball. This seemed to work, as Rondo was looking for his shot more often than usual, likely pre-planning his response to Lance.
Anthony Davis' parents were sitting courtside near the Pacers bench and on his way out, Lance stopped and hugged them both.
A haiku for my new favorite player, Lance Stephenson:
Pacer Small Forward
Often misunderstood, shame
Lance Stephenson, God
Have you listened to our bonus podcast with DIME cover star Austin Rivers?