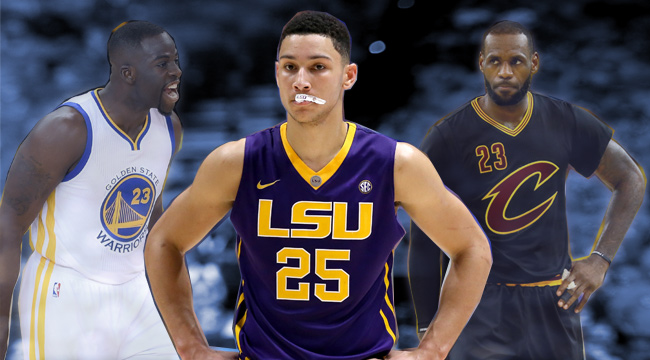 Ben Simmons intends to blaze his own path to stardom and seems unconcerned with burning any competition that will stand in his way of reaching that goal.
"I want to be my own player, and I've always wanted to be my own player," the presumptive No. 1 pick in the 2016 NBA Draft told ESPN The Magazine. "When I was younger, I wasn't a pro, but now I'm about to be a pro and it's business, and I'm not looking up to these guys while I'm playing against them, no. I'm going at them."
That sense of aggression is a trait many say Simmons was sorely lacking during the second half of his headlining freshman season at Louisiana State University. Clearly affected by his team's long-shot NCAA Tournament hopes and criticism gleaned from a recent academic suspension, Simmons totaled 25 points, 20 rebounds, and six turnovers on 10-of-21 shooting over LSU's pair of SEC Tournament games – solid numbers, but far from those he accumulated early in the season as he established himself as a runaway favorite for National Player of the Year.
Simmons didn't win college basketball's most prestigious individual honor. The Naismith Award went to Oklahoma Senior Buddy Hield, a fellow top-five draft prospect who embodied everything "right" about the college game as a senior, making marked improvements between each of his four years in Norman.
That's not Simmons, obviously. He was billed as a one-and-done player well before he stepped on a college campus, played for a non-traditional hoops program that happened to employ his Godfather, and was the worthy and frequent recipient of "GPA! GPA! GPA!" chants from opposing crowds after his sub-2.0 grade point average became public information. Of course, Simmons single-handedly galvanized a dormant LSU hoops following and consistently awed adoring fans across the country with his unique blend of size, athleticism, and playmaking ability.
There hasn't been a college basketball player since 2004 who personified all the benefits and pitfalls of the league's minimum age requirement quite like this.