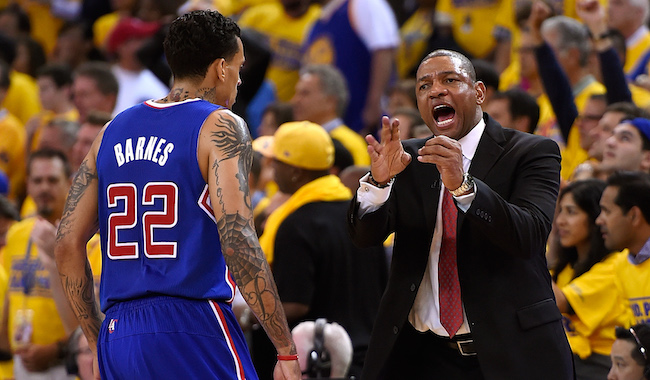 The Los Angeles Clippers are seemingly going in a different direction and, for all intents and purposes, the focus appears to be on the future at the potential expense of the present. Monday's trade to send Blake Griffin to the Detroit Pistons was, of course, the first domino and word spread almost immediately that the team's front office wasn't quite done dealing veterans for future assets.
As the entire NBA world (including Griffin himself) was still dissecting the blockbuster trade that seemingly emerged from nowhere, former Clippers forward Matt Barnes weighed in on what transpired. While his reaction concerning Griffin's ouster was not wholly unique in that many in the industry lamented Los Angeles for signing the All-Star forward to a five-year deal and moving him months later, Barnes dropped an interesting nugget when it comes to head coach Doc Rivers.
In short, he termed Rivers to be "the problem" with everything happening in Clipper-land.

Barnes is not exactly known for his mild manner but, in placing the focus on Rivers, he certainly brings up a lot of interesting points. For starters, Rivers is no longer the leader of the Los Angeles front office and, by proxy, is not directly responsible for the trade. Beyond that, the veteran head coach was dealt a very interesting hand before this season, with Chris Paul fleeing for Houston (admittedly for a relatively strong return) and injury issues for both Danilo Gallinari and Patrick Beverley.
At the end of the day, though, it is definitely news when a former player lobs this kind of shot across the bow at a prominent head coach and that is exactly what Matt Barnes did to Doc Rivers on Monday evening.