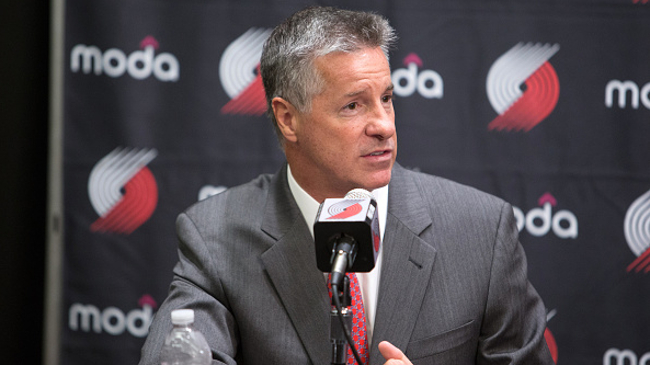 The season didn't end in exactly the way they'd hoped, but the Portland Trail Blazers' improbable run to the Western Conference Finals amassed all sorts of goodwill both inside and outside of the organization, and the folks involved have already started to cash in.
After being named to the All-NBA Second Team on Friday, Damian Lillard became eligible for a supermax contract extension worth around $191 million that would keep him in Portland until he's 34. He's widely expected to receive and sign that deal this summer.
Head coach Terry Stotts likewise didn't waste any time securing his future with the team. The day after the Warriors swept them out of the conference finals in Game 4 on Monday, Stotts signed a contract extension of his own, the details of which haven't been released. Now, team president Neil Olshey has done the same, according to a report from ESPN's Adrian Wojnarowski.
Prior to this season, Olshey had faced criticism for a string of bad contract decisions — Evan Turner, Meyers Leonard, etc. — that had hamstrung the team's flexibility, as well as an ongoing inability to lure marquee free agents. But several savvy moves to bring Enes Kanter, Seth Curry, and Rodney Hood, each of whom made major contributions this postseason and at an affordable price, have boded well for his future.
Still, the Blazers are capped out this summer and could lose all three of those players, as they only have a mid-level exception worth about $5.7 million to work with. Regardless, their magical run to the Western Conference Finals, despite being without their starting center, has helped everyone's reputation as they look toward the future this summer and try to figure out how to build on their most successful season in 20 years.