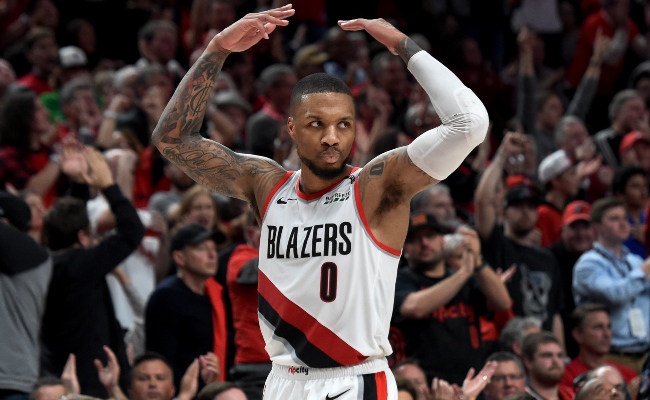 The Portland Trail Blazers held double-digit leads in the final three games of the Western Conference Finals, only to see them erased in spectacular fashion by the Warriors en route to a sweep and a fifth straight Finals appearance.
Even after getting swept, the Blazers enter this offseason with far more optimism than in years past, but some interesting roster decisions to make. While their core of Damian Lillard, C.J. McCollum, and Jusuf Nurkic is locked up through 2021, they have a number of key role players entering free agency and will need to get creative to fill the potential void Enes Kanter, Al-Farouq Aminu, Rodney Hood, and Seth Curry could leave should they go elsewhere.
While those decisions will take some serious thought, the future of Lillard will not. The All-Star guard is under contract for two more years, but will be supermax eligible this summer provided he makes an All-NBA squad, as is a virtual lock.

According to Yahoo's Chris Haynes, the two sides are expected to come to an agreement on the four-year, $191 million deal at some point this summer to keep him in Portland through his age 34 season. There had been whispers of potential frustration from Lillard after last season's latest playoff flame out, but this conference finals run seems to have brought back his full confidence in this team being one that can get a championship.
"Look at what we did this year," Lillard told Yahoo Sports. "We played without our starting center [Jusuf Nurkic, who suffered a season-ending leg injury]. We played without C.J. [McCollum] toward the end of the season. So, looking at that, we were still able to get here. We were one step away [from the Finals]. And not only here, we had double-digit leads in three of the four games. I think getting here is reassuring that we can get the job done."
What will be more interesting is what happens with McCollum, whose deal runs out at the same time as Lillard's current one. The Blazers proved this year they can make a deep playoff run with those two together, something many had previously questioned, but the viability of that duo at the money they would be making will remain a topic of conversation, especially if there's any kind of regression next season.
Deciding when to run it back and when to make a major tweak in an effort to push a team's ceiling higher, with the risk of lowering the floor, is always difficult. Right now, Lillard seems like a lock to be a Blazer for close to life, and if they have a similar run next year, McCollum may join him.