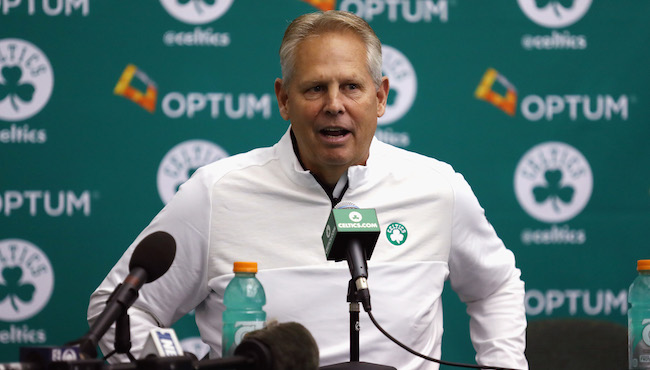 Paul George was finally traded just hours before NBA free agency kicked off late Friday night. But the landing spot — the Oklahoma City Thunder — for the superstar was a surprise to everyone. That's because a select group of teams seemed frontrunners for the services of George, no doubt led by the Boston Celtics.
Indiana acquired Victor Oladipo and Domantas Sabonis for a year of George's services. But OKC might get more out of the deal George decides he likes Oklahoma City and wants to play with Russell Westbrook. It's not exactly the blockbuster haul for George, but the Pacers were at a disadvantage because George told the team he wasn't coming back after next season.
But now that we know what George cost, why couldn't Celtics general manager Danny Ainge pull the trigger and acquire him? The team has plenty of assets, and it actually added to its picks and players when it traded the first overall pick days before the NBA Draft.
Well, Ainge got a bit stingy when it came time to pull the trigger. David Aldridge appeared on NBA TV to explain how the Thunder wound up with George and the Celtics missed out.
"OKC played kind of a waiting game," Aldridge said. "They didn't press Indiana. They knew that they liked (Oladipo and Sabonis). They let them go where they could go with Boston. I think at the end of the day the Pacers just didn't like Boston's offers. At least the offers they made this time around."
Based on the reports coming out that describe exactly what Boston offered, there's some credence to what Aldridge said.
Boston clearly wasn't interested in getting rid of Brooklyn's pick next year, and that's a strategy that worked out this season when that pick won them the draft lottery. But this isn't just on the Celtics for not pulling the trigger. Much better options for the Pacers were on the table at this year's trade deadline, including a reported massive offer from the Celtics that included three first round picks.
Some reports indicate that Brooklyn's pick from this year's draft was part of that package, which would mean the Pacers dropped the ball on acquiring what became Markelle Fultz. It's a missed opportunity for the Pacers, but also another break for the Celtics, who still could not pull the trigger on George in the days leading up to free agency with his price severely reduced once George said he wanted out of Indiana.
But the frustration and jokes are not for the sake of a good laugh. It creates an honest question: If not getting Markelle Fultz to acquire more assets made sense for the franchise, and George isn't worth making a big splash to acquire, what exactly is Ainge doing with all these pieces?