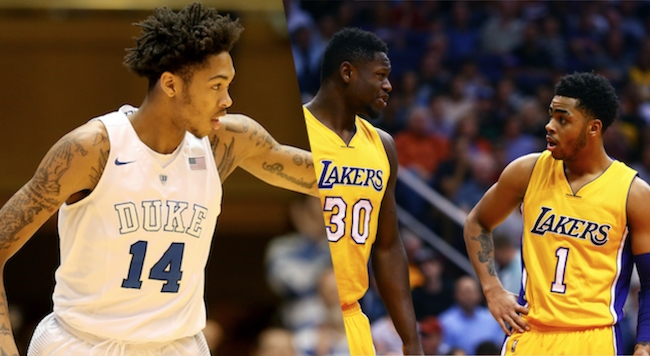 The roster for USA Basketball's Select Team was unveiled on Tuesday. If you are unfamiliar with the Select Team, it's a group of 25 young basketball players, NBA players and soon-to-be NBA players, who train and play against the Senior National Team as it prepares for the 2016 Olympics. There are many notable names on the Select Team, including Brandon Ingram, who is likely to be one of the top two players selected in the 2016 NBA Draft.
Ingram, out of Duke, is the most prominent player on the team who isn't currently on an NBA roster, although Kris Dunn could be a top five pick, as well. Ingram is likely to go second overall, behind Ben Simmons, but Simmons is Australian, so he wasn't available for the team. If Ingram does go second overall, he will be taken by the Los Angeles Lakers. That means he could be playing with a couple future teammates on the Select Team.
Those potential teammates are D'Angelo Russell, who was the second overall pick last year, and Julius Randle. If Ingram somehow goes first overall, which is unlikely, but possible, he'd still be with a couple potential teammates, as Jahlil Okafor and Jerami Grant, both 76ers players, are on the Select Team, as well.
It's a solid roster, one will give the Men's National Team a good challenge. And maybe in a few years, a few of these players, including Ingram, will be on Team USA for the Olympics.
(Via USA Basketball)