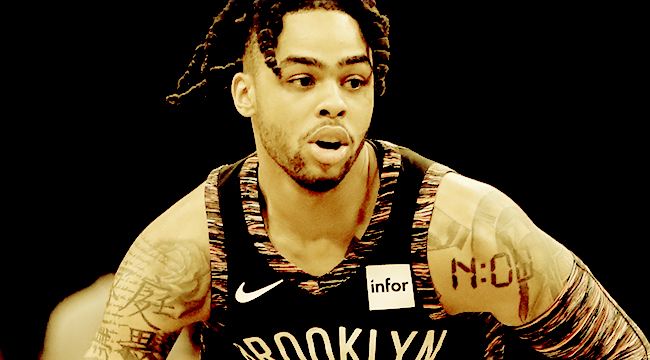 Despite the way their season ended, the 2018-19 campaign was a good one for the Brooklyn Nets. Sure, they were bounced from the playoffs by the Philadelphia 76ers in five games, which included two losses by 22 points and a loss by 16 points.
But as you've read in the, approximately, million pieces that have been written this year about the path Brooklyn has taken to get to where it is now, the Nets should be really happy with a number of aspects of this season. A 42-40 record is nice, but it's especially impressive considering the last few years of basketball in the borough, one that has seen no playoff berths since 2015, the disastrous Kevin Garnett/Paul Pierce trade, and a roster overhaul by a new front office that looked to compensate for their dearth of draft capital. It also helps that the team's over/under entering the campaign was 32.5 wins, meaning they comfortably overachieved.
Basically, if you want to make the case that Brooklyn got here a bit early, you can. That's great news, because when you are in a league where success is defined by how quickly good things happen, you always want to accomplish various goals as soon as possible. Now comes the hard part: figuring out what should happen next.
The Nets have the potential to enter the summer with a metric ton of money. Thanks to a number of players becoming free agents, we generally know how their cap sheet will look entering the summer. The max space they can create is about $50 million, unless Allen Crabbe opts out of the $18.5 million he is owed next year. He should probably not do that, because that is a boatload of money he's not going to recoup on the open market.
This means Brooklyn gets to go into the summer as one of the teams primed to make a run at a potential max player if they'd like. While having a gigantic war chest of cash applies to both of the league's New York-based franchises — the Knicks are projected to have way more money on hand — there's exponentially more energy and optimism in Brooklyn right now than there is in Manhattan. Sure, that might change if Zion Williamson goes to the Knicks, or if the pick to get Zion is traded for, say, Anthony Davis, but as the teams exist right now, the Nets are in a better spot.
The question, though, is what Brooklyn looks like next season. Outside of the aforementioned Crabbe, the Nets have seven players under contract: Spencer Dinwiddie, Joe Harris, Caris LeVert, Jarret Allen, Dzanan Musa, Shabazz Napier, Treveon Graham and Rodions Kurucs. (Note: Napier and Graham are each on non-guaranteed deals for 2019-20) That's a nice group of players — especially the 1-2 punch of Dinwiddie and LeVert, the latter of whom is eligible for an extension this summer — but that's also an awfully thin group of players. We, right now, have no idea what the Nets will look like heading into the 2019-20 season.
The obvious reason why is the team is going to go for broke in free agency. Can they be the ones that pry away a superstar of Kevin Durant or Kyrie Irving's ilk? Would Jimmy Butler or Kemba Walker like to play in Brooklyn? Will they strike out completely? Who knows! The NBA is a star-driven league, and right now, the Nets are in the position to go out on the open market and add one to a pretty good core.
However, the real determining factor in whether the Nets can land another max-level star is what happens with restricted free agent D'Angelo Russell, which will be the most difficult decision the Nets have to make this summer. He made it clear on Wednesday that he wants to stick around, but understands there might be some issues with that.

Russell's cap hold as a restricted free agent is just over $21 million, which eats into what the Nets can do beyond him significantly. Assuming Crabbe opts in and they use both of their first round picks, they could create $29.5 million in cap room by renouncing rights to the likes of Ed Davis, DeMarre Carroll, and Jared Dudley, as well as waiving their two non-guaranteed contracts, which is still less than enough for a veteran max contract. That means the Nets will pretty quickly have to determine where they view Russell in terms of contract value, because, as he noted, Russell's RFA hold stands in the way of Brooklyn making a push for the very top free agents.
He, like his good friend Devin Booker, exists in a weird area where everyone knows he's good, but trying to determine exactly how good he is can be a challenge. Is he a superstar? A star? A guy who, on a contender, will work best as a second or third option? The luxury us folks on the internet are afforded are we can sit here and discuss it freely. The Nets do not have this option.
Brooklyn has to figure out what to do with their All-Star guard, although his status as a restricted free agent means they can defer this a little and see how things potentially play out with the biggest fishes in the unrestricted pond. Perhaps we'll have a scenario where a team turns to restricted free agency and tries to max Russell out to forces the Nets to match, a playbook that, ironically enough, Brooklyn followed during their down years.
But let's say that doesn't happen, and the Nets' first order of business is keeping the electric, 23-year-old guard. He didn't exactly help his case during the playoffs — 19.4 points, 3.6 rebounds, and 3.6 assists with an effective field goal percentage of 42.2 percent — but he improved, could still find ways to improve, and was the catalyst for a big year in Brooklyn. Sean Marks and co. will have to figure out how to balance those things whenever it comes time to hammer out a deal. The max Brooklyn can give him is a five-year deal worth $158 million, which is a gigantic financial commitment for any young player.
Maneuvering all of this while trying to answer other gigantic questions about the team's future are now at the forefront. The Nets were one of the best stories in the NBA during the 2018-19 campaign, and now, they have the opportunity to build towards the future. Being the surprise, feel good team of the year is the fun part, now comes the difficult part of figuring out how to continue taking steps forward.