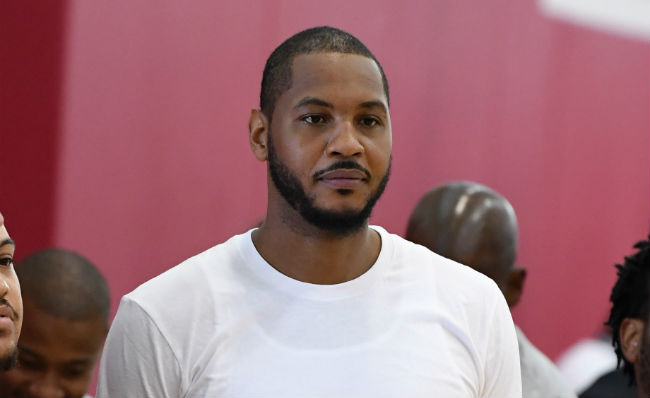 Carmelo Anthony is expected to sign with the Houston Rockets once he officially clears waivers, settling his summer after a trade to the Atlanta Hawks helped the Oklahoma City Thunder get out from under his hefty contract.
But the former All-Star has more than where he'll play next season on his mind, as he had some harsh words for the Trump administration regarding its approach to Puerto Rico following the devastation caused by Hurricane Maria last September. Anthony is slated to appear on Saturday night's edition of The Van Jones Show on CNN and criticized the United States government for its efforts to restore services and offer aid to Puerto Rico.
Anthony has visited the island where his father was born a number of times since the category five hurricane hit, and told Jones about the pain and suffering he's witnessed firsthand.

"It was … a low blow, to me and to all of the Puerto Ricans down there, because we can't control Hurricane Maria," Anthony said, adding ""It hurt … they're American citizens."
Anthony detailed his own efforts to help people still struggling to recover and said the American government has mismanaged the relief efforts in a number of ways.
"We sent, you know, airplanes down there with supplies," he said. "We had the supply stuff at the … you know, at the port; we couldn't get in. We had to make calls and — it was just a lot. It was just sad that we had to go through (that) … in order to help people," Anthony said. "Puerto Rico is part of this country and I just felt like the government completely turned their back, you know, to their island."
Anthony's entire interview with Jones will air on Saturday night at 7 p.m. EST.
(Via CNN)