The Cleveland Cavaliers have suddenly lost five of their last seven games, including an ugly, lethargic loss to an Anthony-Davis-less Pelicans team on Monday night, and as is standard operating procedure, their recent skid has been accompanied by a great deal of hand-wringing that's beginning to border on full-blown panic mode.
LeBron James, of course, isn't above leveraging the NBA media to make his displeasure known to everyone in his periphery, and that's exactly what he did in an expletive-laced tirade to the media after the loss, then again later via his classic routine of firing off passive-aggressive tweets. LeBron has been exceedingly clear in the past that he wants an upgrade at the backup point guard position, and with the February trade deadline quickly approaching (and the deadline to sign free agents following shortly after on March 1), it seems like a foregone conclusion that the Cavs will try to make some sort of move.
But what move, exactly?
The Cavs have a couple of intriguing young prospects in Kay Felder and DeAndre Liggins, but they are far from being reliable rotation players, even here in the regular season, let alone a pressure-cooker postseason environment. So who should the Cavs' front office be targeting? And who could they realistically get at this point?
There's the harsh reality that the Cavs simply don't have much to offer potential trade suitors, nor much wriggle room with the salary cap. That brings us to their most realistic options at this point:
Mario Chalmers/Norris Cole
These are two of the most obvious names that immediately come to mind. Both Chalmers and Cole have played with LeBron in the past, have championship experience, and have proved more than willing to accept subservient roles. Chalmers, however, suffered a ruptured Achilles last season, and there's no telling what kind of physical condition he's in. Cole, meanwhile, is currently under contract in China.
Nate Robinson
The former dunk champ has generously thrown his name into the mix, but he hasn't played meaningful minutes in the NBA in several years now. Once among the most explosive players in the league, Robinson came out of nowhere a few years back to help the Chicago Bulls win a couple of playoff games, but injuries have since limited his effectiveness and essentially punched his way out of the NBA entirely. Yet, at the Seattle Pro-Am this summer, Robinson proved that he's still a cut above most when physically capable.
Rajon Rondo
The Rondo whispers have been making the rounds for some time now, and he actually wouldn't be such a bad fit on paper. Rondo's broken jumper wouldn't be as much of an issue given that he'd be surrounded by capable shooters and could focus primarily on his play-making skills and (ostensibly) his defense. It's his moodiness and general inability to coexist with coaches that might preclude him from this scenario. Although LeBron has taken on malcontents as reformation projects in the past with a lot of success.
Jameer Nelson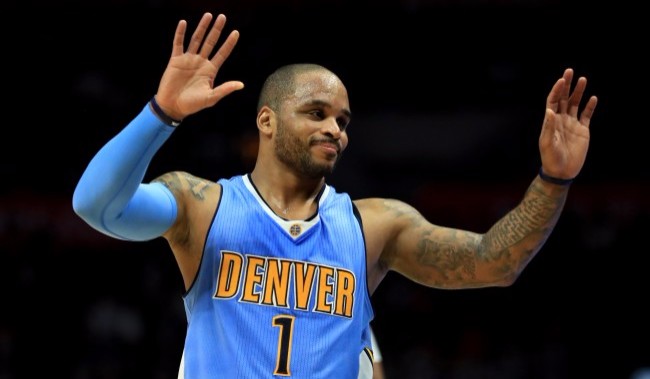 Nelson has evolved into a solid veteran backup over the years, and he's currently averaging 8.5 points per game for the Nuggets on better than 43 percent shooting from the field and 36 percent from behind the arc. Denver, however, is still eyeing a postseason berth and might be more apt to keep Nelson around for his leadership and consistency.
Deron Wiliams
Believe it or not, Williams was once legitimately among the top two or three point guards in the NBA, but injuries combined with years of his prime wasted wallowing on dreadful Nets teams have left him looking for salvation. He's had a resurgence of sorts with the Mavericks, but Dallas' lottery-bound season could make him available. He'd bear much less responsibility with the Cavs and could be the perfect fit.
LeBron himself has also thrown a few names out there for your consideration: Raymond Felton, Dahntay Jones, and (gulp) Michael Beasley. None of these names move the needle much, to put it mildly, and would only be a stop-gap solution to a problem that the Cavs will encounter once again the near future.
Still, just about any of them would offer more experience and stability than either Felder or Liggins at this point. LeBron has made it excruciatingly clear that he wants to get a deal done, so look for the Cavs to be very active over the next few weeks.