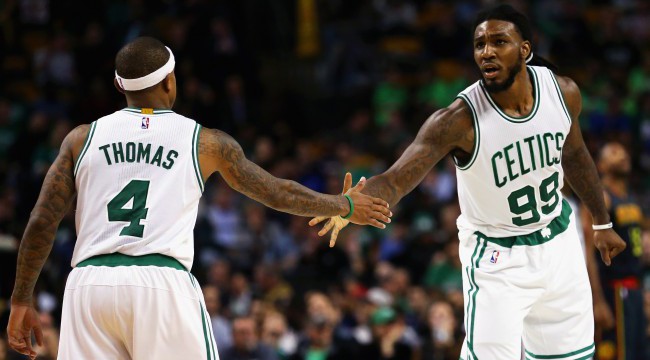 The Celtics have taken the league by storm this season due to Brad Stevens' steady hand and a cast of hungry players. Boston hasn't acquired a star yet, but they're tied with Atlanta for a 3-seed in the Eastern Conference with a 42-30 record. Their defensive prowess is both smothering and unrelenting. Avery Bradley and Marcus Smart torment opposing guards with high pressure, long limbs and brute strength. They are two of the few perimeter defenders in the league who can successfully pressure guards the length of the court. It's an exhaustive strategy, one that requires not only great physical ability, but a certain disposition as well. That's why the Celtics look for players with some added motivation.
"We look at guys who might have a chip on their shoulder," Stevens says. "That's been a big deal for us. It's something that can be contagious, but it has to be recruited. At this level you have to draft and sign guys who have that attitude. It's hard to create an environment if those guys didn't bring that with them."
Isaiah Thomas and Jae Crowder, arguably the Celtics' two best players, were both second-round picks who had to work relentlessly to earn a place in the league. Things didn't work out for Thomas and Crowder with their original teams, but in Boston they have found a home. If the Celtics can find a star player as hungry as the rest of their roster, they could be a title contender very soon.
(Via Sports Illustrated)