Charles Barkley has never been known to mince words or shy away from controversy, whether that includes openly criticizing various current and former players, thumbing his nose at the analytics movement, or suggesting that black people are responsible for the police violence committed against them. Just today, he circled back to his old polemic about how jump-shooting teams like the Warriors can't win championships.
But his latest controversy has to do with NBA 2K17. The wildly-successful video game franchise prides itself on its authenticity, which stems from all sorts of league-related aspects that appear therein. One of those happens to be TNT's Inside the NBA crew, which in real life features Barkley, Ernie Johnson, Shaquille O'Neal, and Kenny Smith, who do the pre-game and halftime shows.
However, 2K players have noticed that Barkley has been conspicuously-absent on recent versions of the game. He apparently is available as a player but is not featured as part of the TNT crew. On Tuesday, he finally offered some clarification as to why:
There weren't many details beyond that, such as which retired players he believes should receive money and/or how much of the company's proceeds should be allotted for such an endeavor. So for now, 2K players will have to do without his witty banter and hot takes.
Now check out…
From LeBron James To Zach LaVine: These Are The 15 Best NBA Dunkers Today
by Keith Reid-Cleveland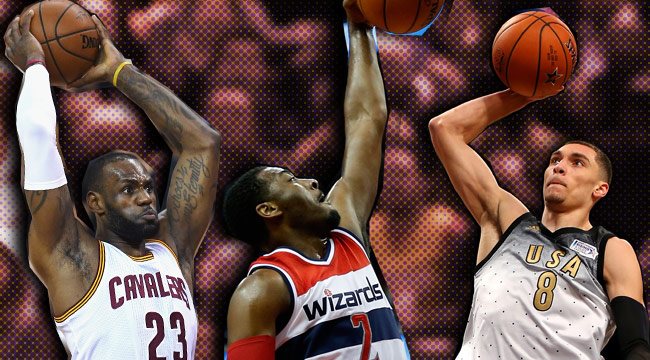 The NBA has evolved into a league that values players who can stretch the floor and put three points on the board in an instant, but whether it comes in the NBA Dunk Contest, a fast break, or on a contested push into the paint, nothing captivates a crowd or announces a player's dominance over gravity (and sometimes his opponent) like a ferocious dunk.
Our list of best NBA dunkers is filled with serious veterans like LeBron James and Andre Igoudala. It also includes spry young bodies like Zach Lavine and Aaron Gordon, who gave us arguably the most exciting dunk contest ever in 2016.
Here are the 15 best dunkers in the NBA right now.

15. Larry Nance, Jr.
Larry Nance, Jr. makes the cut here because he's fresh blood and for more obvious reasons, like the dunk seen above from Summer League play last week. It also doesn't hurt that Nance, Jr.'s father is revered as an all-time great dunker.
Since Junior is on the rebuilding post-Kobe Los Angeles Lakers, he's sure to get more minutes next season, which should lead to more trips down the lane that resemble this dunk against Festus Ezeli.
14. DeMar DeRozan
Rudy Gobert has more than half a foot on DeMar DeRozan, but that didn't stop the newly-minted mega-rich scorer from riding him like a hoverboard to the rim before throwing it down in his face early last season. DeRozan has cited the Gobert dunk as a personal favorite and doesn't really have love for uncontested jams. Apparently he prefers the thrill of battling for the rim. Just one reason why he's on this list.

13. Karl-Anthony Towns
The Timberwolves are going to be a serious problem in the Western Conference one day, maybe even as soon as next season. One reason why is the ceiling of Karl-Anthony Towns, who no one ever wants to see coming their way with a head of steam. He's got the length to make dunking easy but he still puts forth the extra effort to throw down with some serious force.
Note: Players caught up in highlights have two options to spare their dignity. One: get out of the way and deny, deny, deny. Two: Do like Matt Barnes and head straight to a ref to complain about a missed call.
12. Gerald Green
Gerald Green came into the league as one of the NBA's last high-school draft picks and was noticeably underdeveloped. While his dunks were original and entertaining — the cupcake dunk is incredibly slept on — he couldn't get on the floor all that much. After some time, though, he added to his game and became a capable back-up guard. Added bonus? HE CAN STILL USE YOUR FOREHEAD AS A STEPSTOOL.

11. Andrew Wiggins
Andrew Wiggins is another huge part of the equation that could help force open the Timberwolves' window as a contender in the west.
While his numbers are steadily growing, he's still viewed by many as the guy who got traded for Kevin Love. But dunks like this soaring jam against the Jazz will help change that reputation fast. Wiggins almost goes full-on horizontal and still has enough height to finish even though he took off two steps below the free throw line with two defenders in his way.
10. Giannis Antetokounmpo
Who just casually decides to try and dunk from the free throw line in the beginning of a game? Giannis Antetokounmpo, a.k.a The Greek Freak, that's who. Most tall guys only get dunks through put-backs or alley-oops, but Antetokounmpo's truly a freak of nature at 6'11 with the ability to handle the ball enough to get to the hole whenever he wants and finish strong.
Note: He clearly took off from in front of the free throw line here, but he could probably make it if he really wanted to. Which is scary.

9. Terrence Ross
If Terrence Ross isn't careful, he's going to end up head-butting the backboard one of these days and come down feeling like Daniel Bryan on an off night. He doesn't score a lot, but all he needs to steal the show is some space and a good pass and it's an automatic highlight.
8. John Wall
The former NBA Dunk Contest champion benefits from "only" being 6-foot-4 while still managing to be at near eye-level with the rim whenever he goes up for a jam. As the legend goes, when John Wall is in the gym and no one's around he'll put his phone on top of the backboard so he can record his own highlights. No ladders either. He just jumps and leaves it there in case he needs it later.

7. Andre Iguodala
Andre Iguodala is what one would call a situational dunker. He doesn't get the most height or have the most power, although he more than qualifies in both areas, but he has some of the best timing around. A big slam from Iguodala can either quickly turn the tide of a game or serve as a dagger.
After 12 years in the NBA, most players would start to transition to layups and jump shots. But Iguodala's ability to combine them all is one of the many attributes that makes him such a valuable part of the Warriors' roster.
6. DeAndre Jordan
DeAndre Jordan gets most of his best looks from Chris Paul's alley-oop passes, but he's so damn good at it we'll make an exception here. The main reason he's not higher on this list is because he's prone to commit the occasional dunking faux pas, which is that annoying thing players do when they can't quite make it and just throw the ball in the rim at the last second and hope no one notices.
On the bright side, we'll never forget the day that he took Brandon Knight's soul and never gave it back.
5. Blake Griffin
Blake Griffin may have cut his season in half after fighting a Clippers' equipment manager, but his status as one of the best dunkers in the NBA remains intact. Jumping over the hoods of cars tends to have that effect.
He was once another guy with crazy athletic ability that could only score from within a couple feet of the basket. Now? He can make his own shots — even some from midrange — and is going to be one of the hottest free agents of next year, especially if he returns and becomes the next human highlight reel.
4. Russell Westbrook
Russell Westbrook has a nearly seven-minute long video of his dunks from just last season. And most of those include him leaving opponents wondering what just happened.
Does he take too many shots? Maybe. Is he part of the reason Kevin Durant headed to Golden State? Plausible. But has he been the most consistent overall dunker since he joined the league? Hell yeah.

3. LeBron James
Dunks don't happen in a vacuum and LeBron James has done them so well, for so long that it's not even that exciting anymore. But when you look at 111 of his dunks this season in one highlight reel you remember that we're watching a once-in-a-lifetime player at work. He still has the speed, strength and creativity to make it look completely effortless.
2. Aaron Gordon
Aaron Gordon does dunks that other players dream of in warmups. He takes off from the free-throw line to tie up games in the fourth quarter, then there's that entire NBA Dunk Contest performance where he made a solid case that the NBA should allow co-champions on rare exceptions.
1. Zach LaVine
Zach Lavine doesn't jump, he glides. And he does it with such a cool, calm demeanor that it sometimes escapes people that his default in-game dunk is a 360. Oh, you thought he was going for a finger roll? NOPE. Zach LaVine doesn't believe in finger rolls. He just extends his arms another three feet like Mike in Space Jam and makes the other teams' entire front court a poster.
Honorable Mention: Vince Carter
No, Vince Carter isn't half the player he once was. But he's still the best dunker to ever touch an NBA court, and as long as he's active in the league leaving him off of a list like this should be considered a federal offense.