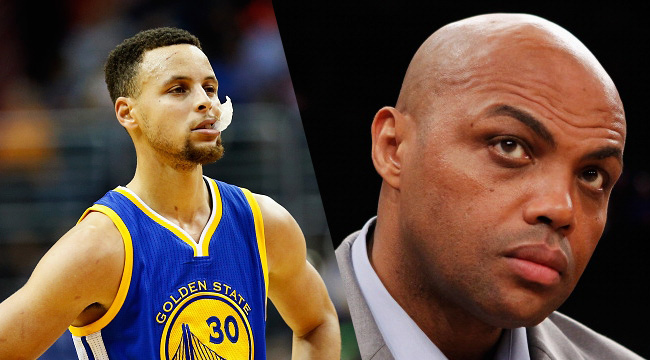 TORONTO – Charles Barkley is old school.
The 11-time All-Star and former league MVP is on record as preferring drag-down, hard-nosed play of the 1990s to the motion-heavy, free-flowing style that's become a hallmark of modern basketball. That's why Barkley remains fervently against the analytics movement, and explains why he was so adamant the Golden State Warriors would never hoist the Larry O'Brien Trophy.
"Jump-shooting teams don't win titles," the Hall of Famer said throughout the blue and gold's run to their first championship in 40 years.
Barkley, by the way, has changed his tune – to an extent. "Nobody is in their stratosphere," he told DIME of the Warriors, San Antonio Spurs, and Oklahoma City Thunder from All-Star Weekend in Toronto. If that seems a tepid assessment of the reigning champions' chances to repeat, though, Barkley's take on their best player will register colder than an Ontario February.
During a sit-down with DIME on Thursday evening, the Inside the NBA lightning rod was asked to compare the overall offensive dominance of Steph Curry to those of a prime Shaquille O'Neal and his own. The exchange, in which he calls the reigning MVP "just a great shooter," is transcribed below.

DIME: We saw in the early 2000s with Shaquille O'Neal that it was obvious that he was going to score – just with his sheer power, size, and skill. It was kind of the same with you in the early 1990s, too. Does Steph compare to that at all? That feeling of inevitability you guys provided at your peak?
Charles Barkley: He's just a great shooter. It's a totally different animal.
But he's more than a shooter, right? Because he's –
No. He's not more than a shooter. He's just a great shooter.
So, he's not an incredible playmaker? Doesn't make the game easier on his teammates? Stuff like that?
I wouldn't say that. But he's not a great playmaker. He's just a great shooter.
You think the dominance that Shaq exhibited in his prime is just an entirely different thing than Steph's?
What Shaq did, you can't…I never played against Wilt Chamberlain, but we've never had a player like Shaq.
One that you just couldn't stop?
Yeah. He was just unstoppable.
Do you think some people feel that way about Steph now, though?
No, they don't. 'Cause he played last week against John Wall and scored 51 and gave up 41. And most people think that John Wall had a better game, because Steph had 10 turnovers and John Wall had 41 and 15 assists.
http://i.giphy.com/SBAsiHK5EyJ68.gif
http://i.giphy.com/1QDfQvBM98Npu.gif
"Just a great shooter. Not a great playmaker."
Let's just say that's not how we'd describe the architect of basketball's record-breaking offense and the overwhelming MVP favorite. Kenny Smith, also of Inside fame, didn't quite share his colleague's take on Curry, either.
Smith glowed during a long-winded, multi-faceted description of what makes the Warriors superstar so, so great. When asked specifically if he agreed with Barkley, though, The Jet was far more succinct.
"Hell no," he said.
That's more like it.
http://i.giphy.com/l4KifEpe66OURwmZi.gif
Now Watch: Who Is The Better NBA Guard: Curry Or Westbrook?