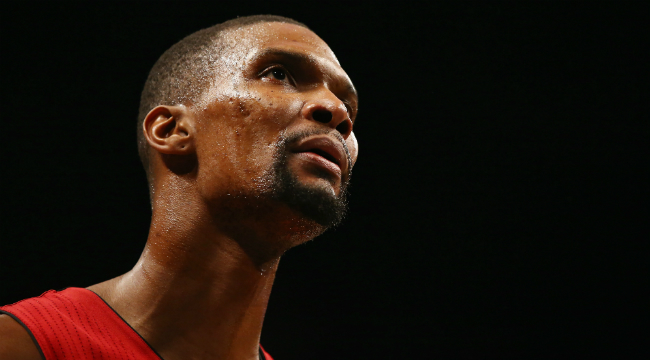 Chris Bosh has been adamant that he wants to get back to playing basketball. The former 11-time All-Star Game selection hasn't been able to take the floor since the 2015-16 campaign with the Miami Heat due to a recurring medical condition involving blood clots, but that hasn't stopped Bosh from making it clear that he still thinks he can play.
Obviously everything regarding the future of the soon-to-be 34 year old's basketball career is in the hands of doctors, who would need to clear him before he could suit up. Still, Bosh has been vocal about his desire to play again.
His latest appeal for a team to bring him on board came on Thursday morning during an appearance on ESPN's First Take. Stephen A. Smith asked him if his career is over, and Bosh made it clear that he's "not done yet." He even cracked a joke about how his style of play would fit in today's game.

"I've been in the gym, I can still play basketball," Bosh said. "No, I'm not done yet. Yeah, I'm trying to come back. Man, I see all these guys shooting threes and not playing defense, man, I gotta get some of it.
"Now it's like, you shoot threes and you can whiff on a screen and roll and it's all good," Bosh continued. "So I think I can do that."
Bosh would be an outstanding fit in today's NBA as a big man who could stretch the floor, and it would be great to see him on the floor again. If, of course, he's at a point where he's able to play without any health concerns.