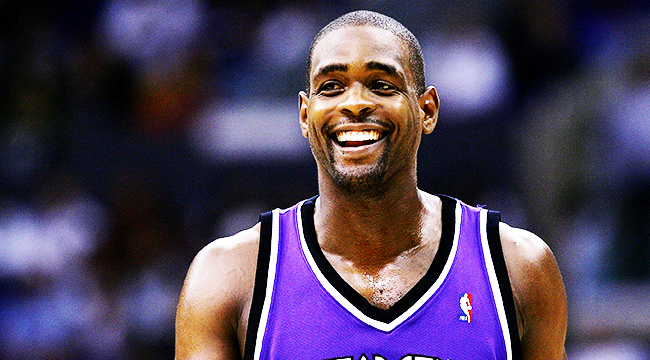 Chris Webber is a Hall of Fame finalist again, and he'll likely get the call this time because of the Hall's recent move to include more basketball players alongside Guys Jerry Colangelo Likes and Has Also Made Money With.
Webber should have been earlier, first chance, because holy cow, what a player.
The NBA kept its appreciation for Chris at arm's length to an annoying degree during his active career, and in the winters since, we've just as badly whiffed and severely underreported just how calamitous his own injuries were. Chris Webber made five All-Star teams, man.
Even the mark he's best known for, spearheading the Sacramento rush after initially demurring, lost its reward when we were denied an All-Star Game at the fin de siècle due to the NBA's owner lockout.
In 1999, a pissed-off Webber averaged 20 points and a league-leading 13 rebounds per game, he blocked 2.1 shots a game and dished 4.1 assists while nabbing 1.7 steals. His turnover rate was appreciatively minuscule considering Webber's space alongside alongside puckish rookie Jason Williams — a spirit so lost that he'd recently been asked to leave the University of Florida campus.
The Kings ran, they sure did, but Rick Adelman's league-leading 96 possessions per game in 1999 runs just a stride below of the current Sacramento squad – this year's Kings play at 98 per, good for the NBA's fourth-slowest in 2017-18.
When Sacramento won four of five games down the stretch of the 1999 regular season with Webber sidelined, victories securing the team a rare playoff berth, the snorts from the unimpressed were immediate. You'd have to wonder if the coaches would have seen to include him even if there had been an All-Star Game that year.

Webber also didn't get to play his age 22 season, his first with the Washington Bullets.
He tried to, after two massive left shoulder dislocations, but available knowledge of as much wasn't enough to sway the length of Webber's shorts:
He dislocated it again Oct. 21 during a preseason game, and after six weeks of rehabilitation, attempted to return. Doctors warned him that the chances of re-injury were very high until he underwent surgery, but Webber decided to play, hoping he could "tippy toe" through the season.

He managed to play just 15 games before deciding to have the procedure. He led the Bullets with 23.7 points per game, but was constantly dealing with soreness or fatigue.
The doctors had an appreciation, at least:
Doctors said that the surgery is to tighten the ligaments that have become stretched with every dislocation. They apparently had become quite loose, because when Warren had him on an examining table on Wednesday, he was almost able to pop the shoulder out of place just by manipulating the left arm.

It's the pain of constant dislocations — and the ensuing absences from the court — that finally convinced Webber to have surgery.

"Does the pain of childbirth mean anything to you?" said orthopedic surgeon Lewis Yocum of the Kerlan-Jobe Clinic in Inglewood, Calif. "It's like having a massive muscle spasm. It's fairly intense pain."

During the surgery, surgeons pass sutures through the torn ligaments and tie them back to the bone.
Webber averaged 20 and 10 the next season, leading the Bullets to the team's first playoff berth in nine years.


The 2002-03 Kings were a load. The team had by then coalesced into a finer version of Magic's later years, its second-ranked defense outranked its sixth-best offense, the group's point differential outpaced all but that year's Mavericks.
Webber popped his left knee in two during Game 2 of the 2003 Western semis against those Mavs after leading the team in assists (and turnovers, and fouls) when Sacramento stole the home court from Dallas in Game 1. Dallas would go on to barely take the series in seven.
The next season in Sacramento was a little muddier. The team nabbed Brad Miller while the Spurs tried to counter its courtship with Jason Kidd, and Brad paired marvelously with what Chris had left behind. Miller earned an All-Star berth that season with Webber recovering from the fall in Game 2.
Microfracture surgery was the answer for his torn cartilage and goodness-knows-what-else, and Chris returned far too early, pushing in time to return once 2003-04 turned into spring.
It worked for one game on March's second day — Webber hit for 26 and 12 with four assists against Elton Brand and the Clippers — but the Kings started losing, like, a ton of games after that, all with Webber in the starting lineup and Miller coming off the bench for the first time since his second year in the NBA. Isiah Thomas and Tim Floyd couldn't even find reasons to keep this guy out of a lineup, yet somehow Sacramento ignored the obvious.
The Kings went 11-12 in games Webber appeared in, dampening a 44-15 start. Everything fell apart because Chris Webber was trying to play NBA basketball with one NBA leg and one human leg (that happened to be just as long as the NBA leg).
Adding to the chaos of Chris' career at that point was a new resentment, partially earned, suggesting that he had ruined something wonderful for a Kings club that could have still served up a title with his minutes. A championship contender that could have better used Webber's scoring instincts off a bench that couldn't do as much with Brad Miller's butt-screens.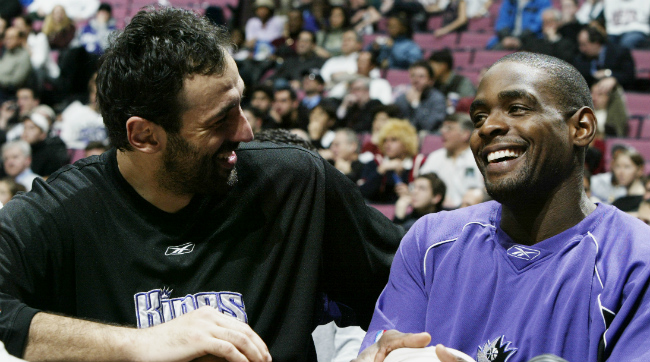 The franchise player rushed back because he heard a rumor, a suggestion that told him half-a-year could repair an entire knee.
Phil Jasner talked to Webber in 2006 about his urge to return too quickly:
Webber recalled being told he could need 2 years to come all the way back, but "I also heard 6 months, and that's all I attracted myself to."

"I tried to come back at 8 months, I had a pretty good game, but the pain I had never left," he said. "It hurts you to do certain things, and you develop bad habits and your mind feels that pain all the time. If I were just now coming back, I would come back with the mentality that I never left, [because] when you have that pain you have to find new ways to play. It's going to make him change his game, become a better outside player. You can't pound as much."

Webber remembers feeling an urgency to return because he was injured the year after the Kings had lost Game 7 of the Western Conference finals to the Los Angeles Lakers, "so all I was thinking about was a championship the next year."

"I talked to Bruce Smith, and he told me I was crazy for coming back [so fast], that he had had it and it was a 2-year injury."

Webber said he was on crutches for 3 months.

"My leg atrophied, and I had to learn to walk again," he said.
Webber had learned to walk again, but his leg wouldn't let him run.
A brain that big still couldn't talk that knee into moving, and for his final four seasons he acted as the sort of hapless big man whose defense we have hard time arguing away in 2018. Worse, his relay took place in an entirely different era: Webber couldn't keep up at a time when even an elephantine Shaquille O'Neal was swift enough to lead a team to a title.
That's how you get five All-Star games out of a career that should have made a decade or more out of Webber in February.
(Not all of the reasons had legs.)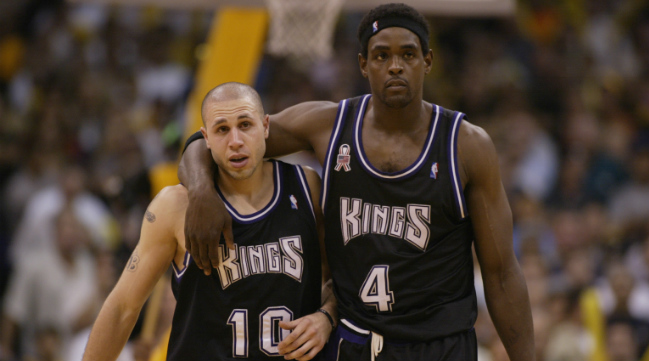 Washington's Webber failed to make the midseason squad in 1998, with his and Juwan Howard's reputations at an all-time low following a sexual assault claim that turned out to be bogus.
He also had a pot charge pending. An officer stopped him for speeding, and, well:
"First of all, I couldn't see. … My face was burning. My throat felt like I had eaten a lot of hot sauce. I was breathing the spray in and out. I was dizzy," Webber told an administrative law judge during a five-hour hearing on whether his driving privileges should be suspended for 120 days. Webber, who has a Michigan driver's license, said he was wearing his seat belt when sprayed. "After that, I was grabbed by the neck and thrown out of the car and onto the ground."
The case dragged on because Webber, in 1998, declined to take a blood test after the police requested one. The examining officer thought the pot influence far sterner an attack on his senses than the pepper spray:
[Cpl. Michael] Rose said he began examining Webber more than four hours after he was pulled over for speeding on Landover Road near the Capital Beltway. "The pepper spray was long out of his body," he said.

Rose acknowledged that the spray might explain a few of Webber's symptoms, such as redness of the eyes, but he said he concluded Webber was too impaired by marijuana to drive, based on the combined results of several tests.

For example, Rose testified, Webber swayed and lost his balance when asked to walk a straight line heel-to-toe and perform other tasks. Webber's eyelids and limbs were trembling during many of the tests, and he had trouble touching the tip of his nose with the tip of his finger.
Seems an unreasonable series of "tasks" to perform after sitting through a pepper-spray blast while restricted by seatbelt, prior to a drag from the vehicle. Cpl. Rose went on to testify that Chris Webber's blood pressure was also elevated during his examination.
This was part of the package when Shawn Kemp and Rik Smits and Jayson Williams and Antoine Walker jumped ahead of Webber and toward awaiting All-Star tickets in 1998.
The Washington Post's Ric Bucher was around when word from the coaches hit:
[ … ] it wasn't enough to erase being overlooked by the Eastern Conference coaches, particularly for the team's likeliest all-star, forward Chris Webber. He refused to talk before the game, promising to do so afterward, but instead he spent 20 minutes being consoled by his former Michigan teammate, Pacers guard Jalen Rose, and then hurried past a clot of reporters and TV cameramen and boarded the team bus.
Webber was at 22 points and nine rebounds at the time of the snub, but guys like Jayson Williams and Rik Smits and the starting Shawn Kemp were on winning teams, among other things.
Walker was mostly rewarded on the hype that Rick Pitino had somehow softened the approach of the second-year forward, then working on a Celtics team that had fewer wins than Washington.

Webber entered 2002-03 with a career 38.1 minutes per game mark, and the Kings clicked that average up to 39.1 that season, C-Webb's tenth, his age 30 year.
He made the All-Star lineup that season, contributing 23 points, 10.5 rebounds, 5.4 assists, 1.6 blocks and 1.3 steals for the 59-win Kings — a group that plays at the same speed as 2017-18's comparatively lugubrious lineup.
The coaches named him to the All-Star team as reward, nicely done, but citing injury Webber bowed out of what turned out to be his final appearance in the contest. He was tired, he had the 2003 playoffs to consider, this was Sacramento's smartest offering yet.
The 2003 contest didn't miss Chris, he wasn't all that great in All-Star Games anyway. C-Webb shot 37.1 percent in four runs, averaging 7.5 points with six rebounds in 18 minutes per appearance.
The Hall of Fame shouldn't care. Chris Webber is owed something.