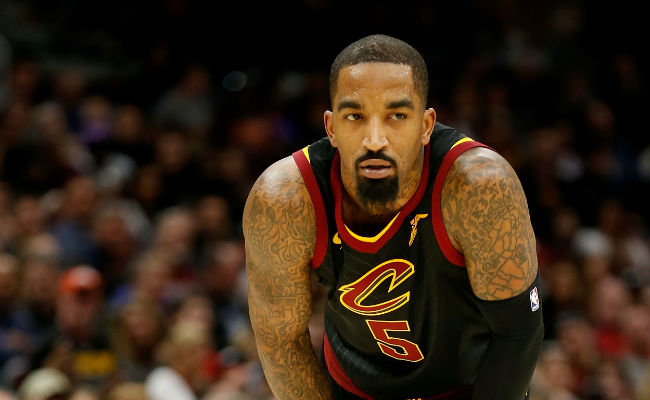 Things haven't been going great in Cleveland lately. The Cavaliers are 4-6 over their last 10 games, and because of it, the team has slipped to fourth place in the Eastern Conference. Even worse, Cleveland is 11 games back of the first-place Toronto Raptors and only three games above the Miami Heat for the eight seed. You can say the team has legitimate issues, or you can say it is still trying to get used to all the new players it acquired at the trade deadline.
Either way, Cleveland is in a spot where it probably needs to shake something up. In the eyes of Tyronn Lue, that means the squad has to make an adjustment to who starts games and who comes off the bench.
Lue met with the media before Tuesday night's game in Phoenix and announced that J.R. Smith is headed to the bench. Smith will be replaced in the lineup by Kyle Korver for now, and when Rodney Hood returns from a back injury, the starting spot is his.
Via Cleveland.com:
Lue said the Hood would not play tonight because of his lower back strain. He offered virtually no explanation for the Korver-Smith move, except basically to say that the two guard spot belongs to Hood when he's ready.
It's an interesting move, especially considering how Smith's feelings about coming off of the bench have evolved throughout the course of the season. Hood hasn't really given the Cavs the spark offensively they may have wanted since coming over from Utah — he's averaging 10.2 points per game on 41.1 percent shooting from the field and 32.5 percent shooting from three — so perhaps this is a move to get him going.
No matter what, Lue has 16 more games to figure out his rotation before the postseason begins. It remains to be seen if more moves are on the horizon, but for now, he wants to shake things up at shooting guard.