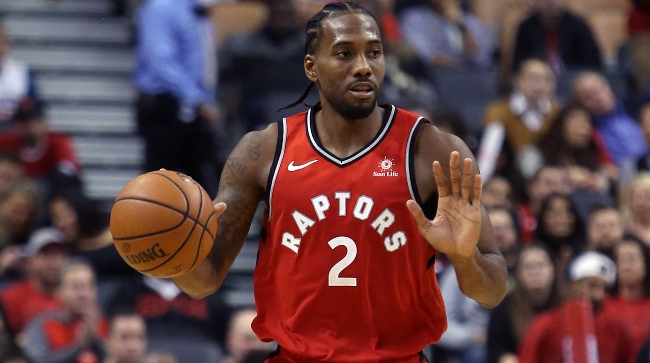 Kawhi Leonard is in the midst of one of the most dominant individual postseasons in recent memory. He's led the Raptors to their first-ever NBA Finals appearance in the franchise's 24-year history, and he's been arguably the best player in either conference through the first three rounds of the playoffs.
He was already probably the second-most coveted of the free agents set to hit the market this summer — that distinction belongs to Kevin Durant — and his superb performances against the Bucks and Sixers have solidified his return to the top tier of the NBA's elite.
It recently emerged that LeBron James has already reached out to try and woo him to Los Angeles this offseason, but don't sleep on the Lakers' locker-room rivals, who have been methodically gearing up to pitch Kawhi on coming to the Clippers instead. They're so serious, in fact, that they apparently considered buying the rights to the "Klaw" logo that Nike still has the rights to.

Via Marc Stein of The New York Times:
The Los Angeles Clippers are said to have quietly looked into the feasibility of purchasing the portion of the rights to Leonard's "Klaw" logo that is still owned by Nike. The Clippers did not immediately respond to a request for comment Wednesday, but such an acquisition would theoretically enable them to bestow full control of the logo upon Leonard as part of their anticipated free-agency pitch meeting with the Toronto superstar.
The idea is that the organization would entice Kawhi by offering transfer all rights to the logo over to him upon signing with the team this summer. Stein, however, went to explain that the financials involved in something like this would likely have salary cap implications too steep to make happen, not to mention that the shoe and apparel conglomerate probably isn't too keen on parting with the rights, which would surely make their way to use for New Balance.
Still, it speaks to just how seriously his suitors are taking his courtship as free agency approaches. With Lakers currently in shambles, the Clippers have to be feeling pretty about their chances right now, though they'll face plenty of competition elsewhere.