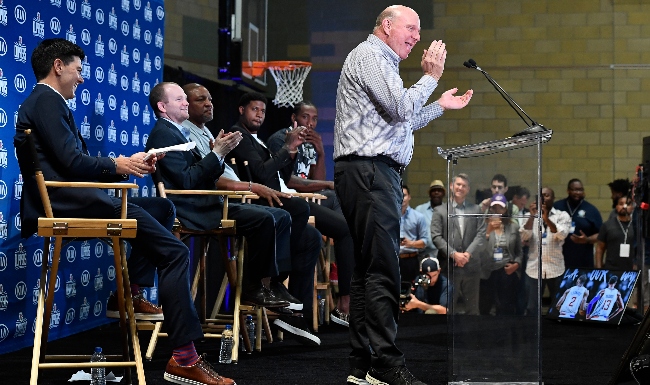 The Los Angeles Clippers are the hottest team in the NBA right now. After pulling off an enormous coup to land both Kawhi Leonard and Paul George this summer, they've catapulted themselves to the top tier of championship contenders going into next season.
But the next stage of their evolution will be continuing to establish their independence and autonomy as an NBA team. As it stands, they have a lease with the Staples Center through 2024, but now it appears the organization is moving forward on its plan to build a new state-of-the-art arena in the Inglewood area that will be their home of the future.
On Friday, the team unveiled new details about the building's unique design, which will not only make it one of the most energy-efficient structures around the league, but also a multi-use facility that could set a new standard for how teams think about arena design moving forward.
Via the press release:
The proposed arena will have a three-dimensional oval design with a unique exterior of diamond-shaped metal panels inspired by the concept of a basketball swishing through a net. In addition to attractive aesthetics, the panels have been designed to provide solar benefit for maximum energy efficiency, as part of the facility's LEED GOLD-certified design.

The facility's most striking feature, intended to highlight the temperate climate of Southern California, is the integration of indoor/outdoor "sky gardens." These landscaped areas for food and beverage will be accessible from every concourse level. The complex also envisions a multi-purpose plaza complete with concert stage, community basketball courts and space for the community to gather and watch everything from Clippers Playoff games to movie premieres on a supersized LED screen.
The Clippers have been working in tandem with the city of Inglewood on the project, which is set to bring in more than 10,000 construction jobs and generate revenue in the area of $268 million annually. The arena is also expected to be 100 percent privately funded.
Not everyone is happy about the new arena, of course. Knicks owner James Dolan, who purchased the old Lakers Forum a few years ago, has been doing everything in his power to prevent the project, including trying to influence the recent mayoral election in Inglewood, unsuccessfully. Dolan originally bought the Forum, which is located in Inglewood, with the idea to turn it into a similar multi-use venue, although his own plans have failed to gain much traction.
The Clippers will remain in Staples Center through 2024, but the new arena certainly signals a new era for a team that is clearly on the rise.