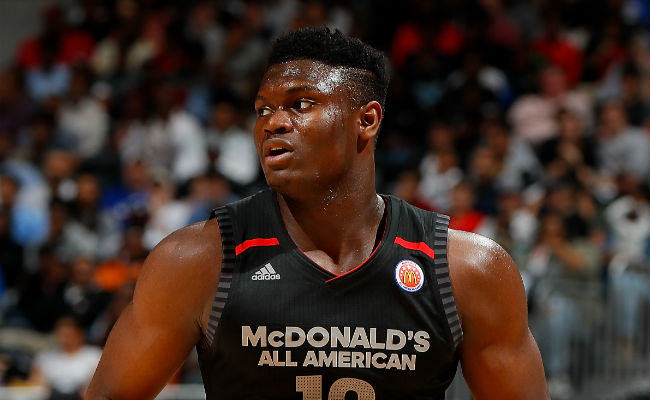 Zion Williamson is a very large human being. The beefiest dunker in college basketball is suiting up for Duke this fall as a freshman, and he's getting plenty of people excited as he takes part in team activities for the Blue Devils.
One potential issue, though, is his size. The frenetic dunker who routinely yammed on children in high school is listed at 6'7. But his weight — 285 pounds according to Duke — is heavier than he was listed in high school.
Mike Krzyzewski knows plenty about Williamson's abilities on the court. He's even referenced his YouTube highlight reel when talking to reporters, and according to ZagsBlog.com he's not worried at all about his frame.
"He's graceful," Coach K said. "His lateral movement and speed and anticipation is off the charts. He can drive, he can post up, he understands the really game well. I know that everyone has watched him on YouTube with all the dunking and obviously that's impressive but he's a heck of a basketball player."

Duke has certainly appreciated Williamson's abilities already, months before he even plays in an actual game.
Krzyzewski stressed that he's seen him play and isn't worried about what the numbers say, telling the media "at that weight or approximately that weight, he moves as fast as anybody, jumps higher than anybody and he's alert. We're not talking about someone who has excess body fat. This is a kid that's in pretty darn good shape and just has a man's mass."
I doubt anyone in the ACC loves to hear that Williamson is playing well despite his weight. The Blue Devils are going to be a load of fun to watch this fall — unless, of course, you're playing against them.
(Via ZagsBlog, CBS Sports)