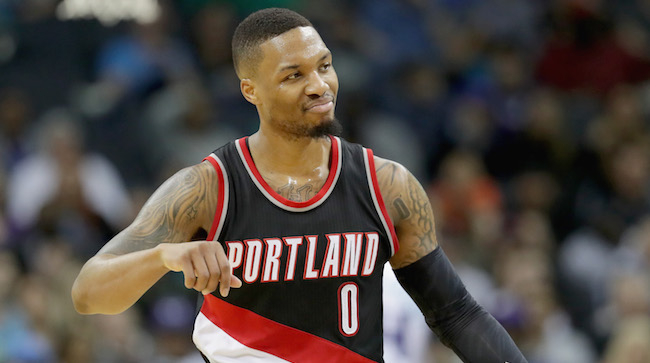 The 2016-17 season didn't quite go according to plan for the Trail Blazers. Portland pushed itself to the salary cap limit in order to bring back its core group from last season's improbable run to the playoffs, but the team failed to take the step forward the front office was hoping for, and will go into the playoffs in the unenviable position of being the 8-seed opposite the Golden State Warriors.
After spinning their tires for most of the season, Portland has come on strong of late, going 8-2 in the last 10 games behind a surge from Damian Lillard. Lillard has returned to All-Star form recently, averaging 27.6 points, 6.5 assists, and 5.3 rebounds per game over the last 10 games as he and backcourt mate C.J. McCollum are back to averaging near 50 points combined per game over this recent hot streak.
Lillard's masterpiece came in Saturday night's game against the Jazz as the Blazers trounced Utah 101-86 behind a franchise-record 59 points from their point guard. Lillard shot 52.9 percent from the field (18-of-34) and was a scorching hot 9-of-14 from three (64.3 percent), while adding six boards, five dimes, and managed to go turnover-free.

After breaking the franchise-record for points, Lillard was pulled from the game late in the fourth quarter and given a rousing standing ovation from the Portland faithful.
Lillard managed to outscore the entire Jazz starting lineup by 17 points, as the Blazers ran Utah out of the gym.
Despite Lillard's record-breaking performance, he wasn't going to keep the game ball. The Trail Blazers' star sent the game ball to the Utah locker room so it could go to Joe Johnson, who reached the 20,000 career point mark in the game.
It's a nice gesture from Lillard, and if there's anyone in the league that can feel confident about coming close to 59 points again, Lillard certainly has to be near the top of that list.
Being the 8-seed in the West seems like a death sentence this season, but with the way the Blazers are playing, especially Lillard, don't be surprised if Portland is able to steal a game off of Golden State on a night where Dame goes off.