C.J. McCollum had a different mindset than many kids growing up.
"I was obsessed with basketball," McCollum told DIME. "Some kids played it because it was fun or they got to be around their friends, I played it because I loved it."
The guard's passion led him to playing against players almost twice his size and age.
"He was the freshman hanging out with all seniors," Errick McCollum, C.J.'s brother said. "It was a big advantage for him. When you are playing with guys that are three, four, five years older than you, you have to step your game up or you'll be a weakness and no one wants to play with you. It forced him to be more mature because you can't act the same way with your own age as you can with people older than you. Maybe it robbed him of his childhood a bit (laughs), but I think we can all say it worked out for the best."
In other words, he had a head start.
That head start eventually led to McCollum exploding onto the NBA scene, taking home the Most Improved Player Award, and helping the Portland Trail Blazers make a remarkable playoff run last year. He averaged 20.8 points per game in 2016, his third in the league, as well as adding 4.3 assists.
Now, just one season later, the success hasn't stopped him from getting better, both on-and-off the court. While it's not generally a surprise to see a player like McCollum succeed, there were many doubters. But if you knew McCollum, you'd knew they'd be silenced.
"He was just wired differently," C.J.'s friend Randy Osei told DIME. "While others were playing video games and enjoying the moment of being at the Draft, C.J. was studying film, reading books, and studying the process of being an NBA player. But you could tell he didn't want to be just any NBA player, he wanted to be an NBA great."
Seizing an opportunity is hard to accomplish in the NBA. Essentially everything has to fall your way. McCollum knows this. As he entered his second season in the league, he barely saw the floor playing only 6.8 minutes per night. That drastically changed right before the playoffs in the 2014-15 season.
Blazers guard Wesley Matthews ruptured his achilles in early March of 2015, and McCollum was called upon to take some of his minutes. However, as with anything in the NBA, this was not a guaranteed role. McCollum had newly acquired teammate Arron Afflalo and rookie sharpshooter Allen Crabbe as competition for the exact same position. Many felt Afflalo was the best option moving forward, but then a first-round series against Memphis would change the entire landscape of Portland's future plans.
In a 4-1 playoff series loss to the Memphis Grizzlies, McCollum would go on to score more than 15 points off the bench in three consecutive playoff games. He was the first player to hit that feat since 1985.
McCollum's Game 5 (and game-high) 33 points were the most off the bench in franchise history. Ending a season full of question marks, McCollum would be seen as a player who could possibly carry over that impressive streak to the 2015-2016 NBA season and beyond.
Other players might have wilted with the new challenge and responsibility. McCollum flourished. And it all goes back to something he had instilled in him by his brother and his parents.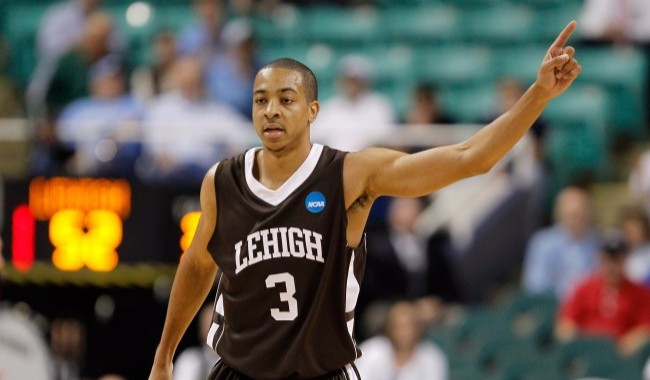 "C.J. was three and a half years younger than me and very small growing up," Errick said. "But when I wanted to do something or go somewhere, my parents would always say 'If C.J. can't go, then you can't go'. I didn't always want him to come along but that was what our mom always stressed. Even when we would fight or argue, our father would always remind us that your brother may be the only person you have in this world. Because of that, I think that's why we developed such a close relationship and bond."
The understanding of core values, ethics, and morals by the McCollum parents is probably one of the main reasons for their children's successes. C.J. has since developed into an All-NBA talent, and Errick is widely considered as one of the best professional basketball players outside of the United States.
But even with the background, help, and structure, C.J. came from a school in Lehigh that wasn't known for churning out basketball talent, and he was seldom seen as a star at the next level. Many had their doubts about how he would adapt to the cadence and structure of the NBA. But his approach never wavered and the goals never changed.
"I had a lot of goals, aspirations, and things I want to accomplish," McCollum said of comparing himself to others. "I understood that in order to have a lot of what I wanted, I always needed to be focused and driven if I wanted to be successful. I wanted to see those dreams and goals turn into reality. You have to find ways to separate yourself from others because there are a lot of good athletes and a lot of good people who play sports. I think that's always my mindset in whatever I do. I am consistent in my work-ethic and my approach, letting the rest, on and off-the-court, fall into place."
C.J. had many things he wanted to do and was smart about the way he approached it. He'd stay in school all four years to get a degree in journalism, where he'd now become an NBA player who interviews other fellow colleagues. But his dedication to helping others in many aspects of life is what makes him special. Every player in the NBA can donate money or time to helping a cause, but doing something because you truly believe in it sends a different message.
"My mom always told me regardless of how high you get, remember what it was like to be at the bottom," C.J. said. "So I always remember what it was like when no one wanted to talk to you, remember what it was like to be at the bottom of the totem pole. That's one of the reasons why I give back to the community so much and help kids through my journalism and learning initiatives."
Creating a Dream Center for kids to study, learn, and hang out – and starting journalism initiatives for young, aspiring kids – allows McCollum to be more than a role model at arm's length. He's actively committing to the community around him.
"I think it's extremely important that I take advantage of this platform," C.J. said. "As a professional athlete, I'm blessed to have good health and fortune, and I think it's important to always remember where you came from. I realize that I didn't make it on my own and there a lot of kids that look up to me that I can impact in a positive way. I never take for granted the situation that I'm in."
McCollum's game is like an art-form with every move, hesitation in space, and wondrous moment of creativity. He can space the floor, play off-the-ball, and shoot from virtually anywhere on the court. Every play, touch, pass, and movement seems calculated and adjusted for each individual play and scenario. From crossing up Dirk Nowitzki to hitting game winning shots, C.J. has become one of the league's most entertaining to watch. His silky smooth handles coupled with a mid-range pull-up that may be the best in the league is a sight to be seen.
While he was never known as the biggest, fastest, or the strongest, his athleticism and feel for the game vaulted him from great to transcendent once he got older and continued to grow.
McCollum, one of the shortest players at GlenOak High School in Northeast Ohio, wouldn't let that stop him from achieving his NBA dream.
"He paid his dues and he never once stopped believing in his dreams even when people thought it was crazy," Errick said. "When he faced adversity, he always found a way to respond. That's the biggest thing and it's something our parents instilled in us."
The relationship between him and his brother were very similar to many sibling relationships, but the bond may be much stronger than what's perceived.
"He's had probably the most impact on my success," C.J. said about his brother. "He was always hard on me, making me workout, and understand the importance of preparation and becoming an elite basketball player. He's been there every step of the way and I'm very thankful to have him in my corner. Without him, I wouldn't have made it."
C.J. has a drive and tenacity to win at everything he does whether that's in basketball or helping kids. But McCollum always has aspirations for more.
"I don't have everything yet," McCollum said. "I don't have a championship. I have to continue to establish myself as one of the best players in the league consistently, build a winning culture, win. But, most importantly, I want to provide a platform for kids across America. I want to continue to give back and help the kids."
That's the upside of being insatiable, and that's C.J. McCollum. He's a player and person who will continue to push himself to provide more and do more, on and off the court.
Maybe it's his journalism background coming into play. But McCollum is a creator, a person who's divinely dissatisfied. Simply put, he's wired differently.