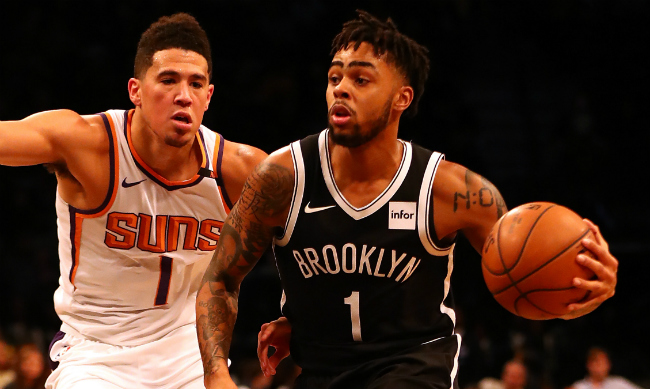 D'Angelo Russell is about to enter his second season with the Brooklyn Nets, and for the fourth-year guard, the stakes are pretty high. Russell could become a restricted free agent next summer, meaning he's potentially in for a big payday if he impresses during the 2018-19 campaign and hits the open market.
Russell's first season in Brooklyn was up-and-down, largely because he suffered a knee injury that required surgery and limited him to 48 games. Heading into this season, though, Russell is healthy and has a source of motivation in the form of his best friend, Devin Booker.
Earlier this summer, Booker got paid by the Phoenix Suns, as the high-scoring guard earned a max contract extension. As Russell explained to Michael Scotto of The Athletic, that sort of thing motivates him to go out and earn his own payday next summer.
"I'm in the greatest place ever, honestly," Russell said, per Bleacher Report. "Like you said, motivation. I see my best friend sign a max deal. I know where we came from, so that's plenty motivation that I need. I wake up every morning and go to train, and I feel like I'm in the best shape. I don't know. The sky is the limit."
The Nets haven't made the postseason since 2015, and in an Eastern Conference that is suddenly wide open, there's a path for them to make it back. One major way they can achieve this is by Russell having a career year, and in news that should make the franchise quite happy, the guard sounds as motivated as ever as he enters his fourth season in the league.