Daniel Gibson was hand-picked by LeBron James to become the 42nd pick in 2006 NBA Draft. Coming out of Texas, James saw what Gibson could bring, a ball-handling, gutsy shot maker with lots of potential. As a second-round draft pick, the chances of sticking and staying in a location for a significant period of time is difficult. But Gibson came ready for the challenge and developed swiftly with the Cavs.
Known for his three-point shooting prowess and being an instrumental part of the first Cleveland-James era, Gibson had made a name for himself. "Boobie," as many called him, would eventually get rewarded for his efforts receiving a five-year, $21 million dollar extension with the Cavaliers in 2008. However, Gibson struggled to get back to full strength due to a number of injuries and setbacks.
"There was a pretty big misconception of why my career ended so abruptly," Gibson told DIME. "It seemed like people thought I quit basketball to pursue entertainment and music and that was just not the case."
In fact, it was Gibson's injuries, to go along with his divorce and the death of his grandmother (whom he lived with) that put him in a mental state unlike anything he'd ever been through.
"I was just hit with a flurry of events," Gibson says. "Mentally, It just took away my ability to workout. I was suffering from depression and anxiety. Honestly, basketball was my sanctuary, but I couldn't even do that. […] I really got to the point where being alive wasn't something I wanted anymore."
Gibson really hasn't had a chance to come out and discuss a number of topics, but in a long discussion with DIME, he goes in-depth about what really kept him out of basketball, the feeling of being mentored by LeBron James, his new outlook on life, and much more.


It seems like it's been awhile since we've seen any update from you or around your situation, what have you been doing since you've been out of the league?
Well, first of all, me stopping playing was kind of abrupt and I think there was a pretty big misconception about why and when I stopped playing. It seemed that people thought I stopped for music and that I stopped for just that. It seemed like people thought I quit basketball to pursue music and the entertainment business and that was just not the case.
My last year of playing, I was playing through an ankle injury and I tore a tendon in my foot. So going into that free-agency summer, I had surgery but it also happened at a time where I had a divorce going on at the same time. I was just hit with a flurry of events. Mentally, I was out of it and It took away my ability to workout because I was on the shelf for about three months because of the surgery, but just with everything going on, I was out of it. I am talking anxiety, depression, and everything, you name it.
So from that point on, it was just a process of figuring out what was next and that's where I am today. I am trying to get myself back into shape to see if basketball is on the horizon because for the past few years it's pretty much been about writing [lyrics] and just slowly transitioning to this.
When I saw Larry Sanders got in with the Cavaliers he really spoke to some similar things that happen outside of the game. So with me, I know the abilities I have as an athlete and as a person, so that's why I am starting to be more open to speaking about these things that have happened in my career.
Let's look back on the Cavaliers and what Cleveland means to you. Can you talk about what it's like to play with LeBron and just, what that organization means to you?
Man, I'm forever indebted. This weekend [during the Eastern Conference Finals vs. Boston], I'm going out there to sign autographs and hang with the fans because it's the anniversary of the Game 6 I had in the Eastern Conference Finals, Bron's first year of going to the Finals. So I'm going out there and every time I go out there, they roll out the red carpet and treat me like a king. It's really like my second home. Actually, when they won that title last year after LeBron got that block, I shed a few tears because of all the time I spent there in Cleveland.
Me, Varejao, and some of the other boys, we went through going to the Finals with him but then also had to deal with him leaving and continuing to try and figure it out without him. Even with that, the fans still sold that place out. We lost like 20 games in a row that year but the fans were still there for every game.
So I'm just happy for Bron and that city, they deserve it. I'm excited for this weekend and I'm just going to be spending time with the fans. I'm not even really concerned about the game. I want to get out there with the people and let them know how much I appreciate the love they gave me while I was there.
So when you look at the history and what he's done, do you think LeBron is in the conversation for the best player ever?
Is he in the conversation? Look, I don't do the whole 'is LeBron better than Michael' argument because I personally feel like Kobe Bryant is more comparable to Michael Jordan in terms of how they play the game. They're both skilled players with a jump shot, one-on-one, iso, kind of mentality. But, LeBron? He's a completely different player. He's more of a Magic Johnson type. So for me to sit here and say 'LeBron is better than Michael' is dumb.
Obviously, Michael Jordan is the greatest, but LeBron is also the greatest because of what they do. To me, they're one and two. I'm a little biased because I played with the man, I got to see the amount of time he put in with his body, what he ate, to the time he put in on the court.


What did LeBron do for your career?
Oh man, when I first got to the Cavaliers, LeBron made my transition so easy. He was one of the first people to contact me and he told me 'I told them (Cleveland management) that I wanted you on this team because of what you could bring to this team and from what I saw of you in college. We're going to get some work in this summer and I'll be right here with you every step of the way.' So coming into the league, I knew who LeBron was because he was only a year ahead of me, but the fact that he'd done that was impressive.
He took me right under his wing and he invited me everywhere, he made everything more comfortable. He just wanted me to be a part of the vibe that he brought and to understand what it took to win in this league. He was always wanting me to experience everything first hand, so I learned how to work in the NBA right away.
When I got my first big deal, I told him it wouldn't have happened without him. I'm a talented shooter, I'm a good basketball player. But the way that he looked out for me coming into the league, it set me up for my career. That's really why I had the level of comfort and confidence that I had.
I remember him telling me before Game 6 of that Eastern Conference Finals, 'this is going to be your night. I'm going to get doubled and just be ready to shoot.' That was just one of those nights.
Speaking of Conference Finals, can you talk about your rivalry with the Pistons and what that was like?
That's the highest level of competition. You have two cities who are close by, poverty stricken, and love their basketball teams. You had two teams who were competing at the highest level and that's how basketball should be played. That was Bron's first crack at it, and you had those Pistons team with Tayshaun (Prince), Chauncy (Billups), and the whole nine. I mean, that's what basketball is all about and you're starting to see that come back in some of these series we've seen like the Washington and Boston series.
It's okay to be cool off the court, but when you're on the court and between those lines, we're competing to win. Those games would be knockouts. We really did not like one another on the court, it was about trying to win, and I think it brought out the best in everybody.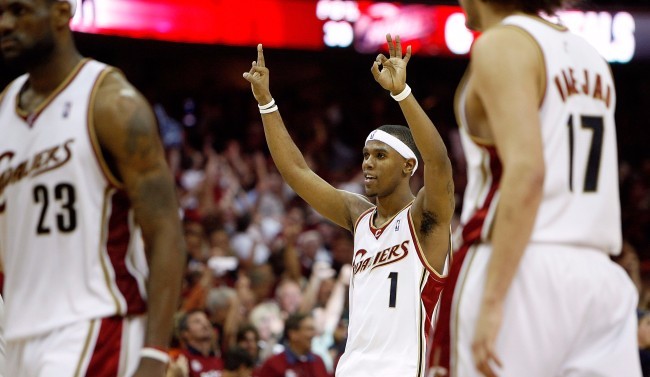 So you talked about going through depression and anxiety within the past few years out of the league, how did you get through it?
That's where people don't really understand me. I've always had a special ability to write. I could've gone to UT (University of Texas) on an academic scholarship as well as an athletic scholarship. And so, a lot of people don't know that about me because all they know is that I can shoot threes and just keep shooting threes, we already know what you're great at. But writing has always been my other safe place for me. So once the injury happened, the divorce, and then losing my grandmother who lived with me, normally it was basketball that would be the place I'd go to feel normal or feel sane.
But I couldn't even do that.
So I just started writing, and someone close to me had started to read some of my work and kept up on what I was doing. He ended up telling me about ways that I could express myself and release my feelings through music with nobody around except a microphone. So I started doing that and writing about how I felt, what I wanted to feel like, what I wanted to accomplish, and it all just kept me going. It – along with my son – basically saved my life.
I really got to the point where being alive wasn't something that I wanted anymore. But I can speak about it so freely now because I feel comfortable and I know that there are people out there who are in it and can't speak to it.
So what have you done in the past couple years to get back into shape and really grow from some of the experiences that have recently taken place? Is there anything you would change?
No. I wouldn't change anything because I believe certain people are meant to endure, certain people are meant to face and overcome difficult obstacles. Basically, you have to fail out loud so everybody can see it but from that point on, get back up and be victorious so everyone knows it's possible. I think people endure those trials so that everyone can learn from it.
For me, the process has been similar. After my injury, it took awhile to get my legs back under me and finish the divorce which took like a year. Even during that time, between getting back on the court and the divorce, basketball was like my sanctuary. It was the place I could get away and find peace. But after the divorce, I went on a tour over to China with Jason Williams, Nate Robinson, and Gary Payton, and then myself, Dooling, Corey Magette, and Stephen Jackson has been helping to work with the new Champions League. We all kind of came up with the idea to help out because there's a lot of guys who can really play.
But, as far as 82 games, back-to-backs and the grind of an NBA season, they might not be able to do that. They might be able to play two or three games a week to two or three games a month. But, there's a lot of markets that don't have the ability to see that type of talent on-the-floor. The whole Kobe farewell tour, the Paul Pierce fanfare, that all kind of played into the idea of creating that league.
From there, it's just taken a mind of its own. We've gone to Irvine, St. Louis, and have games scheduled in Reno, Brooklyn, and other spots, so that really ignited me. It really made me realize that I still have the juice, you know what I'm saying? So playing against that type of talent and playing well, it's just been an ongoing process and for me, I am just taking it day-to-day. I'm just making sure I am putting in as much work as possible and just allowing god to tell me which way I'm supposed to go.


I know the NBA Draft is coming up, do you have any advice for the players who'll be in the draft?
Commit. Have confidence in what you do and who you are as a player. Also, remember getting drafted doesn't mean you've made it. It's not the time to take a deep breath and relax. It's time to go to the next level and showcase what you've worked your whole life for.
Are you trying to play basketball again?
Right now, I'm trying to do two-a-days, eaten right, doing everything that I'm supposed to do physically so my body and mind can reach its peak. Then, once I get to that point, I'll make decisions on everything else. So for me, the door is open for every possibility. But it's really about how dedicated I am to this grind and reaching a level where no one can say no to me.