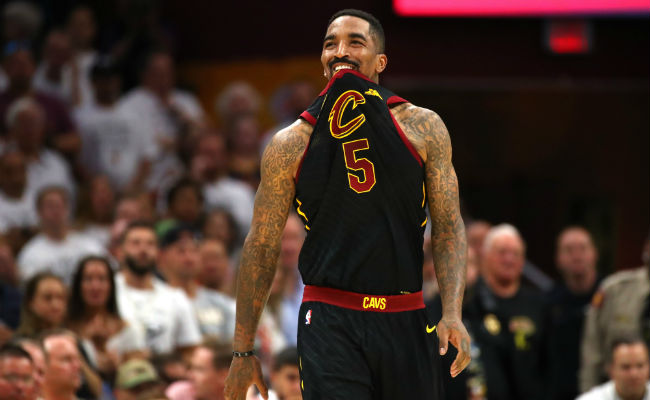 J.R. Smith might just have the biggest blunder of the past NBA season to his name, but one person who worked closely with him in recent years thinks that slip-up is a symptom of a larger issue. That issue isn't that Smith doesn't care or doesn't try, but other things that were going on that have impacted what he does on the floor.
Smith essentially threw away Game 1 of the NBA Finals in June, though he appears to have put that well behind him as he is wont to do. Things don't bother Smith much, and his seemingly carefree attitude is a big part of what makes him so unique and has given him the ability to overcome a lot of things. But former Cavaliers general manager David Griffin says that lackadaisical style may help him forget past mistakes on the court, but he can't simply overcome everything happening on and off the court.
Griffin isn't currently working in the NBA but his insights have become valuable as an analyst this past year, especially since he had a huge working knowledge of one of the more fascinating teams in the league. But with LeBron gone from Cleveland, what's left of his former team looks in for a much bleaker season than the long string of NBA Finals appearances with James on the roster.

That's why when Griffin tells the Wine and Gold podcast that Smith hasn't been motivated to stay in shape since signing a new contract in 2016, people tend to believe that's exactly what is happening in J.R.'s world. Griffin said it's a complicated situation, however, especially since his daughter's medical issues took a physical and mental toll on him in the months before and after signing his deal.
"I think obviously the personal situation that he and Shirley went through with their daughter had a great bearing on him emotionally during that period of time. I think the fact that he got guaranteed money moving forward really made it so he was less likely to keep himself in shape than when he was going year to year. There was a reason he was so good on a year-to-year contract, and part of that was, emotionally, he needed to care at the end of the year.

So, I think to some degree, he shows up out of shape and then he gets injured getting himself in shape. And, so I hope what we see this year is a J.R. Smith that's hellbent on proving something and shows up in shape. And if he does that and he doesn't get injured, I think he's still capable of playing high-level basketball. But he hasn't been motivated to be that since he signed the deal, so you would have to say in that situation, the deal wasn't the right deal, because it didn't bring out the best in J.R."
On its surface, saying that Smith didn't show up in shape is a negative. But what Griffin is saying here is, in a strange way, optimistic. The events of the past season could give Smith something to prove this fall, and the GM who signed Smith to that deal in 2016 sure seems like he has a lot left to play for.
Smith does have plenty to prove to skeptics who say he will always be a streaky shooter with issues focusing on the task at hand. But athletes aren't robots, and the stuff happening off the court can certainly impact a player's drive and determination to put in what's necessary to thrive. If Cleveland is going to make a postseason push, they'll need J.R. at his best, and Griffin sounds confident he can achieve that level.