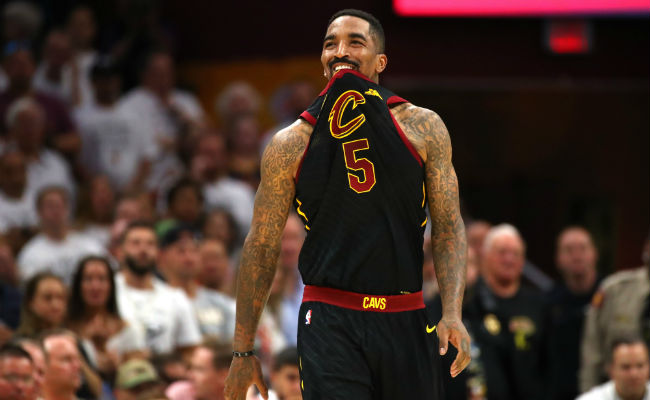 J.R. Smith messed up. He might not say exactly what happened at the end of Game 1 of the NBA Finals, but if he acted differently in the final seconds, the Cleveland Cavaliers might be up 1-0 in their fourth straight Finals against the Golden State Warriors.
Smith seemingly thought the Cavs were up when he rebounded a missed George Hill free throw with the score tied, and what followed was one of the more inexplicable things that's happened in an NBA season filled with weirdness. We're now firmly in the run-up to Game 2 of the series, but Smith is still having to answer for himself and what happened at the end of Game 1.
On Saturday, Smith said he's no longer sure what he was thinking in the final moments of the fourth quarter.
Smith was also asked about the replays that appeared to show him telling James he thought the Cavaliers were leading when he decided to dribble it out. After the game, Smith denied that he had the score wrong, but days later he seemed to have taken a more forgetful approach to the debacle.
This is actually pretty decent cover all around, as it sort of is plausible Smith just didn't know what was up at that point. Anyone watching was dumbfounded by what happened, and it's something that can be seriously traumatic in a huge moment. Smith, however, doesn't view it as something traumatic. In fact, he's glad this didn't happen to anyone else, because he believes he's uniquely prepared to handle this kind of situation.
Maybe Smith getting past this saga can kickstart him over the remainder of this series. At the very least, it's safe to say he won't get consumed by regret or anything like that.