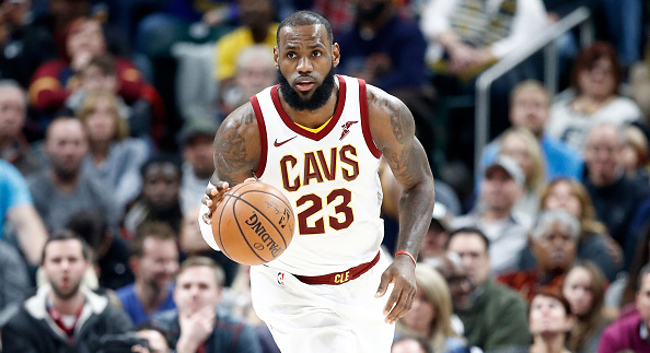 After a rocky start to the 2017-2018 season, the Cleveland Cavaliers have been on fire lately. They rattled off 13 straight wins before falling to the Pacers on Friday night, then got right back on track with a gritty victory over the Sixers Saturday on the second night of a back-to-back.
Needless to say, LeBron James has been phenomenal during this stretch and has landed himself back in the MVP discussion. As usual, LeBron's stats are right on par with his previous award-winning seasons, but somewhere along the way, his dominance has been so consistent that it's almost become banal.
LeBron is averaging 28.3 points, 8.7 assists, and 8.3 rebounds and is having a career-year in terms of his efficiency, shooting 57.6 percent from the field and 41.7 percent from downtown. That's prompted some to wonder whether, in his 15th NBA season, he's playing the best basketball of his career. One of those is former Cavs GM David Griffin.
"What he does that defies the imagination is that he keeps getting better," Griffin said. "He's 33 years old, and he's the best version of himself he's ever been. He's shooting the ball better than he ever has and continuing to add a piece to the handbag. It's incredible what he's able to do."
Still, it'll be an uphill battle for LeBron to take home a fifth MVP trophy. James Harden has been equally enthralling for the Rockets and likely has narrative on side after finishing as the runner-up to this award on multiple occasions.
Regardless, it bodes well for the Cavs, who are eyeing a fourth-consecutive NBA Finals appearance and face a vastly improved Eastern Conference gauntlet this season.