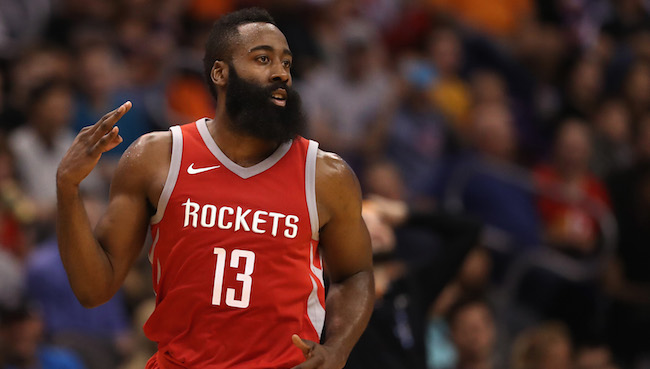 The NBA season has passed the quarter pole and with a 20-25 game sample size for most of the league's top stars, we can safely begin talking about the MVP race. There have been those that have shown flashes of MVP-caliber brilliance, but few have put forth the sustained effort and numbers of the two players that are clearly head and shoulders above the rest.
James Harden and LeBron James are the frontrunners for this year's MVP race, with a fairly sizable gap between them and the rest of the pack. Harden is leading the league in scoring and assists, with 31.7 points per game and 9.7 assists per game, and is doing so with a great deal of efficiency with a 45.8/40.5/86.6 shooting split. James, meanwhile, is averaging 28 points, 8.5 assists, and 7.9 rebounds per game on an insane 58.3/41.6/77.3 split.
To illustrate the gap between those two in the MVP race, all one must do is look at the latest MVP straw poll from Tim Bontemps of the Washington Post. Bontemps polled 105 members of the NBA media, some with actual MVP votes while others (like myself) do not, to see where the MVP race stands early on. The results, predictably, show Harden in the lead, followed by James, with a fairly significant gap to anyone else.

Here are the top 5 in Bontemps' poll (full results here), along with the points each received (10 points for first, 7 for second, 5 for third, 3 for fourth, 1 for fifth):
1. James Harden (944 points)
2. LeBron James (773 points)
3. Kyrie Irving (347 points)
4. Giannis Antetokounmpo (317 points)
5. Steph Curry (208 points)
After Curry there's an even bigger drop to Kevin Durant in sixth with 60 points with no one else so much as earning more than 20 points in the poll. The gap from LeBron to Kyrie shows how far ahead the top two are, and even there Harden has a pretty strong advantage on James.
Irving is the only other player to have a first-place vote (he got eight), while Antetokounmpo showed up on 93 of the 105 ballots, including three second-place votes. The MVP race this year might not be as congested as last year's four-horse race, but if the Cavs' hot streak continues and James continues to post an insanely efficient line (and if Chris Paul steals away some of Harden's counting stats) this could become a very heated MVP race between the two. Just don't expect anyone to really get into the serious conversation beyond those two stars.