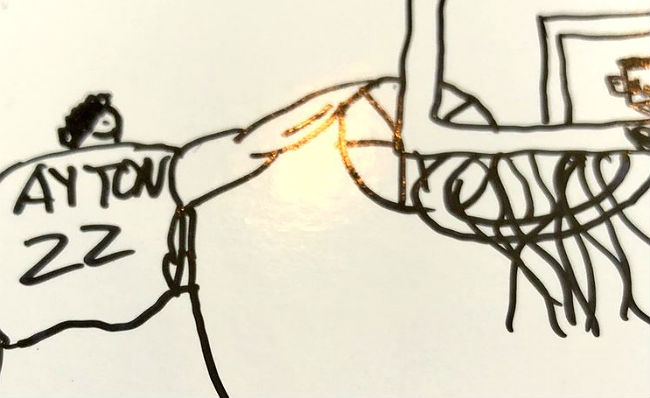 Joel Embiid has quickly become the troll king of the NBA in his career. He's used Instagram locations, subtweets and all kinds of smack talk on and off the court to make a name for himself among fans and players beyond being one of the league's most dominant big men.
Embiid has spent the summer dunking on random people throughout the streets of Philadelphia as he's essentially healthy during the offseason for the first time in his NBA career. But it looks like a rookie is looking forward to putting him on a poster. Or, well, at least a trading card.
At the annual Panini NBA rookie photo shoot on Sunday, where rookies get to draw their own trading cards, Deandre Ayton turned the tables on Embiid and did some trolling of his own. The Arizona standout drew himself dunking on Embiid, and Panini shared his artwork on Twitter.

The first overall pick has had a quiet summer on the floor, but it's clear he's making a statement here. Look at the smile on his face while he shows off his work. It's not the most artistic of cards but it's definitely one of the most notable cards in the collection.
It's a pretty funny move for Ayton. These cards are always pretty silly, but calling your shot on an NBA All-Star before you've even taken the floor is pretty bold. Embiid did respond later on Sunday, and he used some official NBA slogans in a message that called Ayton a "kid."
So it seems like it is all in good fun. I'm sure absolutely nothing will come of this on the court this year.