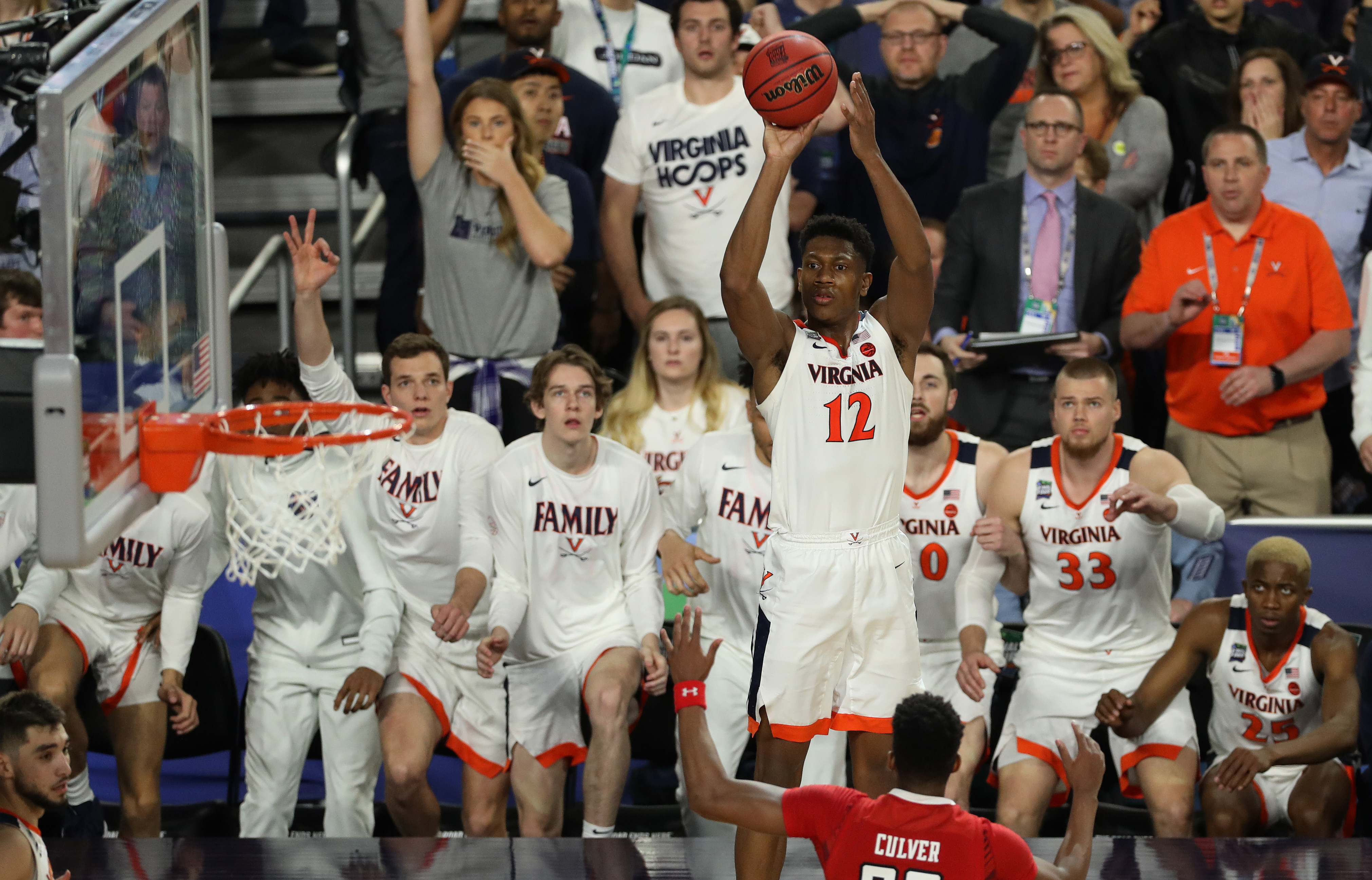 MINNEAPOLIS — At halftime against Texas Tech on Monday evening, the whispers became shouts aimed in the direction of De'Andre Hunter. Though the redshirt sophomore forward has been projected as a lottery pick in the 2019 NBA Draft for months, the broad nature of the stage during the national championship game provided the opportunity for many to evaluate his game for the first time. Prior to the break, Hunter didn't perform at an optimal level, missing seven of his first eight shots, and that, combined with a profile not always associated with top-end status in the draft, gave skeptics ample fuel.
Then the second half arrived and Hunter was nearly perfect. The 21-year-old exploded for 22 points in the final 25 minutes of game action, converting seven of his eight shots (including all four of his three-point attempts) to greatly aid in Virginia's run to the national championship.
Beyond the natural storyline of Virginia's embarrassing loss to UMBC one year ago leading to a situation in which the Cavaliers cut down the nets in 2019, Hunter's own story is wildly intriguing. It is often ignored that Hunter, who was projected as a first-round pick had he declared for the draft after the 2017-18 season, was not present for Virginia's high-profile first-round loss last season, as he was sidelined with injury. Without the benefit of hindsight, it would be aggressive to boldly state that the Cavaliers would have avoided disaster had Hunter been on the floor but, at the very least, his presence may have helped to shift the outcome in a more positive direction.
Regardless of the past, Hunter's game is well-suited to the NBA in a modern sense. At 6'8 with a 7'2 wingspan, Hunter is able to defend multiple positions at a high level, even with some appropriate questioning about his statistical translations. He may not be a full-fledged game-changer on the defensive end, largely due to his lack of "havoc" statistics like blocks and steals, but Hunter's size and physical profile paint an optimistic picture in the way that he can deter opponents.


That was on full display on Monday when Hunter stood toe-to-toe with fellow projected lottery pick Jarrett Culver. While the Texas Tech standout made plays in his own right, it would be reasonable to say that Hunter won the head-to-head duel, particularly when taking into account Culver's numbers in the game when defended by someone other than Hunter, compared to his performance when the duo was faced off directly.
"We wanted that matchup," Virginia head coach Tony Bennett said of Hunter defending Culver. "We really wanted to have that matchup. So Chris, Coach Beard, did a great job of they went small. When they went small, we had to match and go small. Braxton (Key) did a great job. And we wanted to switch the ball screens. Then we're a little worried because he is so good, but we just tried to make it happen as much as possible, and Dre (Hunter) made him work to get shots."
"De'Andre, he was just named Defensive Player of the Year, and his ability to lock in and slide is as good as most," Bennett continued. "I thought that was a great two-way performance, defensively and offensively, in this game and this setting, and he saved his best for last. That tells you there's something in that young man. He's got more — he's scratching the surface."
Hunter, who entered the night trailing Culver on most draft boards, isn't suddenly a better prospect based on a one-game sample. In fact, it is wildly important to take full context into account, even when a performance such as this one could stand to cement Hunter's standing in an overall sense. Still, it would be difficult to find a more apt look within the setting of an NCAA Tournament and Hunter emerged at an opportune time.
It would be fair to point out that Hunter is a defense-first prospect at this juncture but, in the same breath, his offensive profile is evolving in a positive direction. Prior to his showcase performance against Texas Tech, the talented forward scored 30.5 points per 100 possessions on the season (a useful distinction given the glacial pace deployed by Virginia) and Hunter did so with high-end efficiency, including a 61.6 percent true shooting mark in 37 games.


Translating Virginia's offense to the NBA would be a difficult exercise and, in short, it will provide challenges to NBA decision-makers forced to make decisions on Hunter in the near future. On one hand, he was the player often asked to generate something out of nothing offensively, leading to inefficient attempts from the mid-range, but Hunter made 42 percent of his three-point offerings, helping to assuage some of those doubts. The three-point shooting came in a relatively small sample and, frankly, he probably isn't a 40-plus percent shooter from distance, but Hunter's shooting also isn't a problem at this juncture and, when combined with his defensive tools, an intriguing combination comes to the surface.
In many ways, Hunter's second-half explosion against Texas Tech may be misleading in that his NBA destiny likely doesn't include No. 1 offensive option responsibilities. After all, Hunter will turn 22 years old in June and, even in an objectively good game for him, his offensive arsenal doesn't scream "superstar" at the masses. With that said, the 2019 draft isn't overflowing with out-of-this-world offensive prospects (at least after Zion Williamson and, to a lesser extent, Ja Morant) and Hunter's relative safety as a defender and secondary offensive option could be enticing.
Along the way, Hunter's age will come to the forefront as a knock against him and, as noted, that is a realistic strike against his profile. Most prospects projected for lottery status in the present-day NBA clock in at 19 years old and Hunter is nearly three years older than those expected to go at the top of the lottery like Williamson and R.J. Barrett. That, combined with the odd nature of his collegiate situation, should provide plenty of fodder for evaluators and, in short, it is easy to see why some are split on his projection, particularly through the prism of upside, as a result.
De'Andre Hunter is likely on his way to the NBA after leaving his mark at Virginia in distinct fashion, and that is a story that has often been told through the eyes of other top-flight prospects. His profile isn't unique in that way but, through the lens of the 2019 draft class, Hunter should be considered a no-doubt inclusion within the top ten. That may not be true with a "regular" draft pool but, of course, it isn't the fault of Hunter that his peer group isn't projected to form an all-time class.
It seems like a safe bet that an NBA team will submit Hunter's name quickly when the draft begins in late June and, as soon as that happens, members of that fan base will likely recall times in which he didn't "look the part" as an elite-level offensive option at the college level. In some ways, those skeptics will be "right" but, in taking into account a full picture that includes a solid offensive floor and a defensive profile that would entice almost any professional squad, Hunter's profile is top-10 worthy and it seems likely that at least one NBA team will agree with that conclusion.