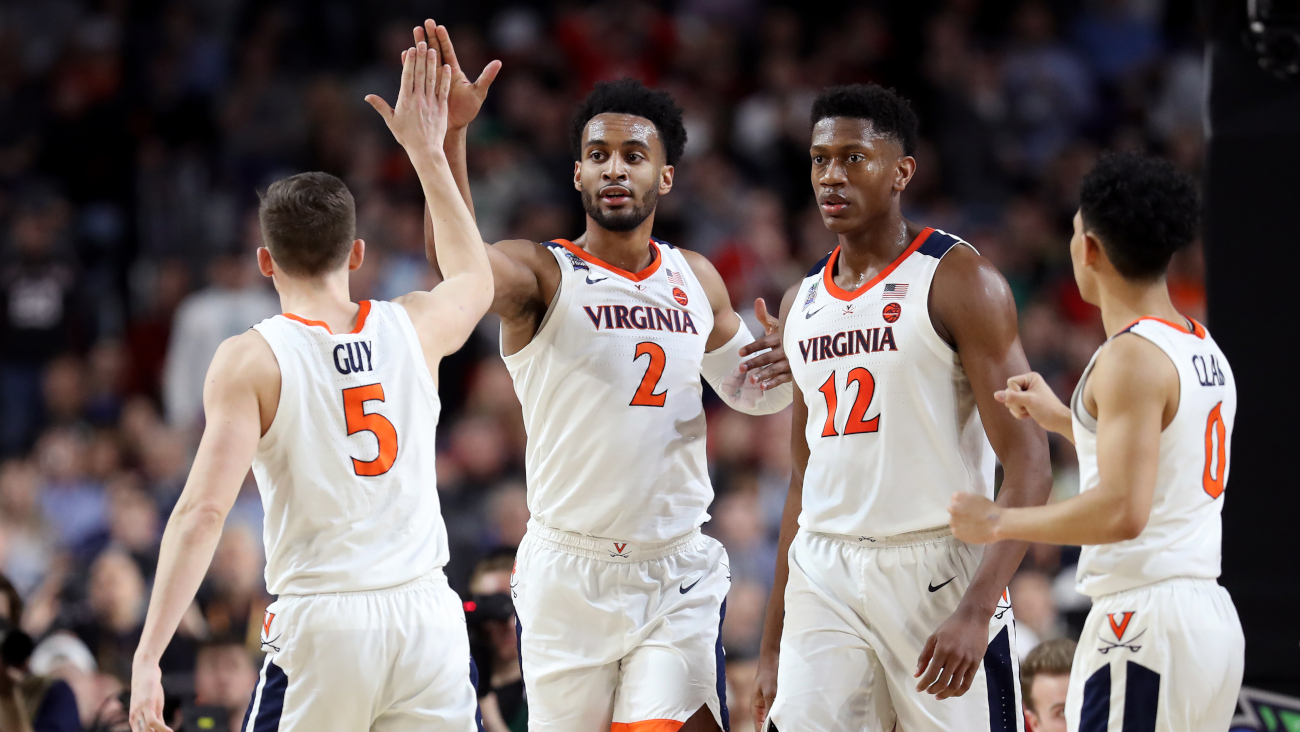 Prior to Monday evening's national title game between Virginia and Texas Tech, many were skeptical that the contest would be entertaining. After 45 minutes of action, it would've been impossible to argue that the competition wasn't enthralling and, in the end, Virginia emerged with its first national championship in program history, outlasting the Red Raiders by a final score of 85-77 in overtime.
The evening began in on-brand fashion, at least when it came to a lack of scoring. The two teams combined for just five points in the first five-plus minutes of action and, in doing so, missed 10 of their first 11 shots. Texas Tech took longer to awaken, as Virginia used a 7-0 run to take a 9-3 lead, while the Red Raiders opened 0-of-8 from the floor.
Texas Tech would finally dent the scoreboard with their first field goal at the 12:49 mark and, while Virginia held the edge, open shots were virtually impossible to come by on either end.

Virginia pushed to a 17-7 lead and, considering Texas Tech's largest deficit of the tournament was just five points prior to Monday night, that margin felt significant. From there, however, the Red Raiders reeled off a big-time run, beginning with four three-pointers in a span of two minutes to knot the game at 19-19.
Overall, Chris Beard's team used an 18-4 run to take a 25-21 lead and, with haste, the game flipped on its head.
To their credit, Virginia did close strong, overcoming their own drought with an offensive barrage (at least by the standards of this game) in the final minutes of the half. The Cavaliers closed the half on an 11-4 run, combining signs of life from projected lottery pick De'Andre Hunter with a buzzer-beating three-pointer from Ty Jerome to take a 32-29 lead into the break.
Despite the lack of scoring at the outset, the first half actually zoomed from an offensive perspective, with the two teams easily surpassing the first half over/under from the good folks in Las Vegas. Much of that stemmed from each team knocking down five three-pointers but, at the very least, the early going pushed back against the narrative that fireworks would be at a premium over the course of 40 minutes.
Carrying over their momentum from the end of the first half, Virginia kept it going, using a Kyle Guy three-pointer to kick things off and eventually extending their lead to 38-29. In total, it was a 17-4 run across the end of the first half and the beginning of the second, with the Cavaliers seemingly taking full control of the proceedings.
On cue, projected Texas Tech lottery pick Jarrett Culver got things going, generating back-to-back buckets off the dribble after a slow start.