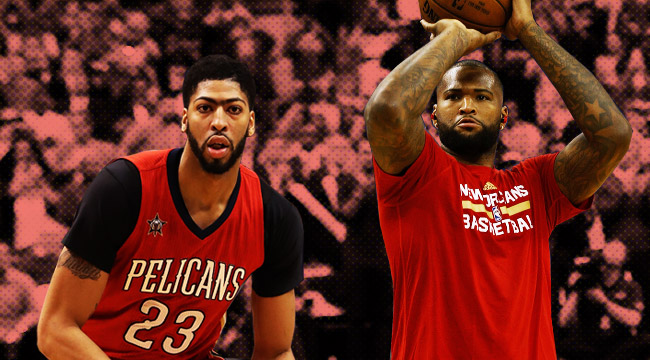 The DeMarcus Cousins era began in New Orleans on Thursday evening, and his debut came with mixed results. Cousins himself was lights-out, falling one blocked shot short of a 5×5, while Anthony Davis was his usual tremendous self. Unfortunately, the overall performance of Cousins' new team was considerably lacking and the scoreboard illustrated that to the tune of a 129-99 blowout defeat at the hands of the Houston Rockets.
First and foremost, there is no great shame in losing, even in lopsided fashion, to the Rockets. Houston's offense is basically the worst unit that a team trying to find its footing on the defensive end can face, and the Rockets were brilliant in knocking down 20 three-pointers while scoring at a clip of 124.4 points per 100 possessions. Make no mistake, some of that had to do with shoddy defense from New Orleans, but Houston's shooters were found in perfect situations by James Harden and it was an avalanche on that end of the floor.
Still, there were positives to dwell on for Pelicans fans and Cousins supporters, namely in the fact that both the newly-acquired big man and his All-NBA counterpart did what everyone expects them to do. Cousins produced 27 points (on 11-for-19 shooting) to go along with 14 points, five assists, five steals and four blocks, putting together one of his best across-the-board efforts of the entire season. Davis kept pace with 29 points and nine rebounds on his own and there were moments in which it is easy to see how the two uber-talented frontcourt players can and will play off one another to create mismatches.

If anything, the Pelicans were predictably over reliant on their superstars.
It is unfair to suggest that Davis and Cousins have to be better on an individual basis in order for the Pelicans to win, simply because they did quite a bit in this game on both ends. In the same breath, it is certainly fair to think that the supporting cast for New Orleans won't be this brutal on a nightly basis.
Jrue Holiday, who is clearly the No. 3 option for Alvin Gentry's team, struggled with seven turnovers (against just four assists) and 3-for-12 shooting on the night, although he is clearly a player that can adjust to his surroundings in short order.
The issue, though, is that the rest of the supporting cast reeks of mediocrity, and that isn't a problem easily solved. The Pelicans' sizable investments in Solomon Hill, Omer Asik, and Alexis Ajinca aren't exactly bearing fruit when compared to the monetary cost. That restricts flexibility both now and in the future.
It will be interesting to see how Omri Casspi is integrated moving forward (unless he misses extended time due to a thumb injury) and 10-day signing Hollis Thompson could theoretically provide floor spacing. Still, Cousins' first foray in a new uniform will serve as a reminder that this is anything but a finished product.
DeMarcus Cousins and Anthony Davis have the physical tools to play together successfully for quite a while in New Orleans and the early returns on their partnership are encouraging in some ways. However, the NBA world was treated to a (very) strong performance from each half of the potentially dynamic duo and it couldn't have mattered any less on Thursday evening.
Unfortunately, it probably won't be the final time that statement will apply during the 2016-2017 season.