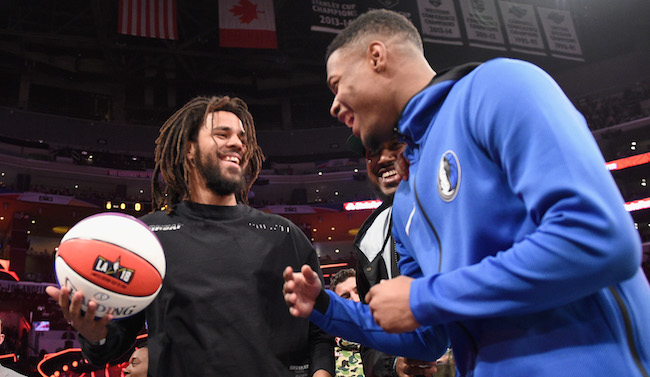 Jazz rookie Donovan Mitchell won the 2018 Verizon Slam Dunk Contest after he put on an impressive display to top Larry Nance Jr. While it was far from an instant classic, Mitchell and Nance both provided quality dunks and a fair amount of innovation.
However, afterwards there was still some controversy regarding the scoring of Mavs rookie point guard Dennis Smith Jr.'s first dunk. Smith received a 39 for his first dunk, which was on his third attempt, and that score essentially kept him from the finals as he had arguably the dunk of the night on his second dunk with a perfect 50.
The issue was that Smith received a 39 for a made dunk when Victor Oladipo got a 31 for his first dunk when he never even succeeded in his three attempts. This rubbed many the wrong way, including ESPN's Amin Elhassan, who went on Leverage The Chat's Black Opinions Matter podcast on Monday and explained how the scoring of Smith's first dunk kept us from getting a wild collaboration dunk in the final round.
According to Elhassan, Smith planned on bringing out rapper and fellow Fayetteville, NC native J. Cole in the final round for an alley-oop that would also include Cole throwing down as well.
So if Dennis had made it to the finals, Cole was going to throw him the alley-oop. But then the plan was he'd throw him the 'oop, Dennis would dunk it, and then Cole would catch the ball and then he'd dunk it too. And that was going to be like the ill, craziest dunk contest use of a prop or a person ever. But we never got to saw it because they were holding out for the final round. They didn't want to bring it out in the first round, but the judges messed that thing up, man.
Smith's 39 on the first dunk was unfortunate, but the complaints about the judges panel of non-basketball players (Dr. J aside) handing out bad scores seems a bit misguided. We've seen for years that missing attempts will hurt your score, even if your eventual successful dunk is great. Oladipo getting a 31 was a mistake more than Smith getting a 39. Three missed dunks should just go as a 0, and we should move on, rather than making judges post scores for effort.
In any case, the J. Cole dunk will have to live on in our imaginations for at least another year. Smith Jr. might return to the dunk contest next year for retribution (or he might hold out due to anger over the judging), and if he does, we'll have to keep an eye out for Cole stepping in to help.
[h/t Def Pen]