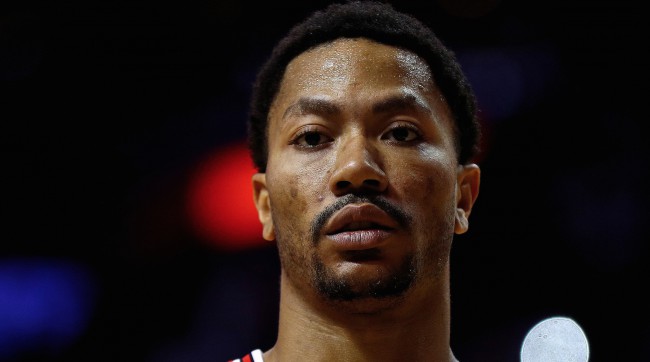 Derrick  Rose didn't have any surgeries this year. In a sort of twisted way, that makes this Chicago season some form of a success, even if the Bulls did disappoint enough to miss the playoffs for the first time since 2008.
Rose did sustain his early eye injury. But the knees were healthy, the lower body didn't deteriorate and his play actually picked up throughout the season. He may have taken loads of criticism this year for his slow start and his imperfect defense — which, even when he was an MVP, still wasn't all too effective — but even Rose is pleased with the way he was playing at the end of the year.
He told as much to K.C. Johnson of the Chicago Tribune:
"All these injuries, I had to learn my body and know my body. I have to be the only one to determine when and when not to go. But I always thought that I was going to get back to the way that I played but even better. I love the way I'm playing, picking and choosing my spots. I love the way I'm playing on balance, not being reckless. And I love the pace that I'm playing with."
Rose almost got a pass the past few years after initially tearing his ACL during the 2012 Playoffs. And he deserved that, especially once he reinjured his knee only 10 games into his 2013-14 comeback season. This season, though, he trudged through different treatment — and his cryptic comments about his 2017 free agency didn't help, nor did preseason reports that Jimmy Butler didn't appreciate his work ethic, nor a certain lawsuit that anyone could argue has been forgotten about since last summer.
Rose won't ever be the player he was when he garnered the MVP back in 2011 at just 22, but he can still learn to be an effective point guard. Toward the end of the season, he actually became that.
After Jan. 11, Rose averaged 17.8 points, 4.4 assists and 3.4 rebounds. He did all that in a mere 30.8 minutes a night. That's a legitimate sample size, and most importantly, his 45-35-84 shooting line saved him from turning early-season clanking into one of the least efficient seasons in Bulls history.
If Rose can perform next year like he did in the final 36 games of 2016, Chicago has to be happy with that. And, with Rose hitting the open market during the summer of 2017, you have to imagine he's going to be doing all he can to post a strong season.
You gotta earn that money.