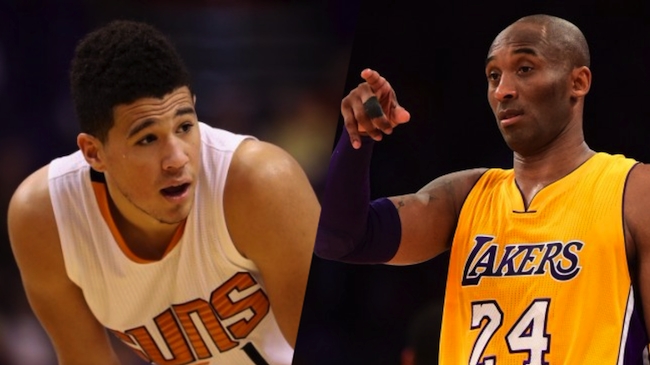 Devin Booker carved out a spot in the NBA's history book on Friday night. The Suns' 20-year-old guard became the sixth player in league history to hit the 70-point mark in a game, scoring exactly that many against the Boston Celtics in a 130-120 loss as he sent the NBA world into a frenzy.
It was the first time that someone dropped 70+ since Kobe Bryant went for 81 against the Toronto Raptors. As it turns out, Kobe had a hand in tonight's performance, too. After the game, Booker explained how the Lakers legend helped shape the mentality that led to his record-setting night – Booker's night featured the most points ever scored by a player younger than 21.

"I've seen an interview with Kobe where he said what separated him from a lot of people … he thought everyone thought 30 points was a lot," Booker said. "He said he never set himself with a limit. And that always sticks in my head.
"I don't put a limit around anything," the second-year guard continued. "I want to be the best in life in all parts of life."
That last sentence may be the most Kobe-esque thing we've heard out of a player since he retired. Kobe was apparently paying attention tonight, as he decided to show the Suns' young star some love.
It's good to know that even though Bean is busy attending ceremonies for Shaquille O'Neal, Booker is leading a new generation of players who are inspired by the Kobe System.