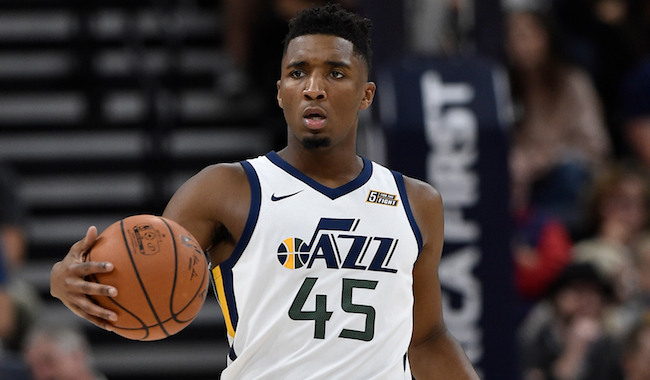 Donovan Mitchell and Ben Simmons engaged in an interesting back-and-forth on Monday and everything revolved on around the two-man race for NBA Rookie of the Year. While that debate isn't going anywhere, it is quite reasonable to praise both Mitchell and Simmons for fantastic debut seasons. In the case of the Utah Jazz guard, accolades are rolling in from around the league with regard to the way he has carried a heavy burden for an offense that needed his contributions.
Some such applause came from Los Angeles Lakers guard and fellow rookie Josh Hart, who was prompted about Mitchell after the two teams faced off on Sunday. Hart referenced some of his toughest defensive assignments, including James Harden and LeBron James, and after a brief moment of levity in comparing Mitchell to those All-NBA players, the former Villanova standout heaped high praise on Mitchell.
"Don is very crafty," Hart said, according to Lakers Nation. "I think that's the biggest thing with him. You don't realize how crafty he is. He's a top offensive talent in the league. He's proven that. He's had 40-point games, he's the leading scorer of a playoff team, and for a lot of the year carried a playoff team in his rookie year.

"Judging him on his body of work this season, he definitely (belongs in the same conversation as Harden and James)," Hart continued. "And he has the potential to be a great player in the league."
Hart isn't a household name in NBA circles just yet but, given the assignments he has taken on this season with the Lakers, there is a great deal of credibility in the way he speaks about Mitchell. It has to be noted that Mitchell isn't yet on the same level as the best in the NBA when it comes to efficiency but, in the same breath, rookies rarely take on the amount of usage Mitchell has carried this season while maintaining reasonable shooting splits and he has done just that.
Any 21-year-old rookie averaging north of 20 points per game would garner attention and Mitchell is doing it while in the midst of a playoff push and without submarining the league's best defense. In short, he is a tremendous player and, when leaving the madness of ROY chatter, his peers are noticing.
(Via Lakers Nation)