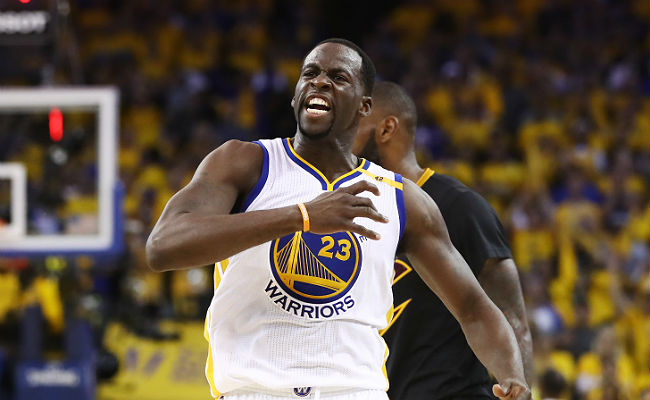 Draymond Green is one of the more honest players in the NBA, and he's very willing to defend himself and others in the press. Green was listed as the tenth best player in the NBA by ESPN, and in response, the Warriors' Swiss Army knife said he hopes to stay in the top 10 for a long time.
Green was interviewed by ESPN as part of their #NBArank and discussed his rise in rankings, which were controversial for how low they ranked Carmelo Anthony. Green addressed the Melo ranking, but also talked about himself and how he became one of the league's best players.
Green said his work ethic is the difference for him turn from a productive player into a perennial All-Star and an important member of the league's best team.
"If you look at my career, I think every year I've gotten better, which is the key," Green said. "I honestly don't think there's many guys in this league that work as hard as we do."
Green sounds confident in himself and the work he's put in, and the results can't really be argued with. Plus he stressed that he's only going to get better, and that he hasn't reached his true potential just yet.

I've heard I've reached my ceiling since I was a sophomore in high school. Every year. It never fails. But the one thing I've never understood is how someone can say I've reached my ceiling when I know I'm one of the hardest-working players in the NBA.

And I'll continue to hear that for the rest of my career. Reached a ceiling, reached a ceiling. And one day I will. Like I said about Melo, one day we all just slow down, and that's happened to Kobe Bryant, that's happened to Michael Jordan. One day we all slow down, and Father Time is undefeated, as they say. Eventually I will reach my ceiling, but I know I'm nowhere near that right now.
Ultimately, Green said he's hoping to build a resume to get himself into the Hall of Fame. Playing for Golden State these days is a pretty good way to build that resume.
Green also disagreed with the ESPN ranking Anthony 64th in its best players list, and defended the New York Knick as a player despite his regression in recent years.
"I'm not going to sit here and lie and act like he is the Melo he was five years ago, but the 64th-best player in the NBA?"Green asked. "All right, five years ago he was maybe sixth. He ain't fu*king 64."
Green isn't the only person to be upset about the ranking, so it seems like it's pretty obvious now that Melo should be ranked higher. But lists are important to people, especially when we're still in September.