The Golden State Warriors only really figured out the LeBron James-heavy Cavs when they decided to insert Andre Iguodala into the starting lineup, and slide Draymond Green over to center, with Andrew Bogut the odd man out. Their small-ball lineup effectively brought them a Finals win, and it was one of Steve Kerr's more devastating lineups during the season, too.
So, it makes sense that Draymond Green would respond when Miami's young force on the block, Hassan Whiteside sent a tweet casting aspersions on the use of small ball in the contemporary NBA.
https://twitter.com/youngwhiteside/status/636345469757558784
https://twitter.com/money23green/status/636377350633037824
Whiteside followed up his tweet in the early-morning hours today, when he mentioned how undersized centers — like Green — must rely on a double when they're stuck one-on-one on the block against players, presumably of Whiteside's ilk.
https://twitter.com/youngwhiteside/status/636457030195134465
And when one fan pointed out to Green on Twitter that Whiteside averaged more points per game last season, Green politely let him know that he's not Golden State's primary scorer.
https://twitter.com/Money23Green/status/636397282485739521
Regardless of who won this tepid Twitter back-and-forth, Green's right.
Today's NBA is rife with small ball units winning big. The Heat won two titles with Chris Bosh sliding over to the five to open up driving lanes for LeBron and Wade. On offense, Bosh acted as a shooter in those high efficiency corners, and was able to hold it down in the post despite giving up some weight to opposing centers.
Plus, the Warriors won the title with some luck, and an ability to play all manner of basketball, not just small ball. While that's the strategy Kerr employed to win their Finals series against an injured Cavs group, they employed Andrew Bogut against Tony Allen in the Conference Semifinals to come back from a 2-1 deficit against the Grizzlies and win the final three games of that series. It was their ability to morph into whatever worked against an opponent that gave them an advantage against every squad in the brutal Western Conference.
Bogut, and to a lesser extent Festus Ezeli, gave Golden State traditional bigs to bang against the Hassan Whitesides of the world. But Draymond is unique in that he's severely undersized, but still tenacious and smart enough to man-mark someone like Marc Gasol, with only a soupçon of double teams thrown in. That, plus, he can snag a rebound and go coast-to-coast with the ball, and either score or make a play at the other end. That's also why he got PAID this summer. So, when someone questions small ball on Twitter, he's gonna disagree.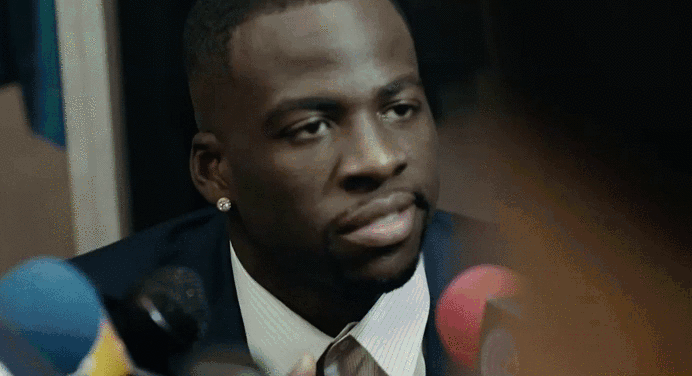 Still, small ball will be continue to be a debate throughout the league as teams adapt to Golden State's championship-winning formula.
(H/T PBT)