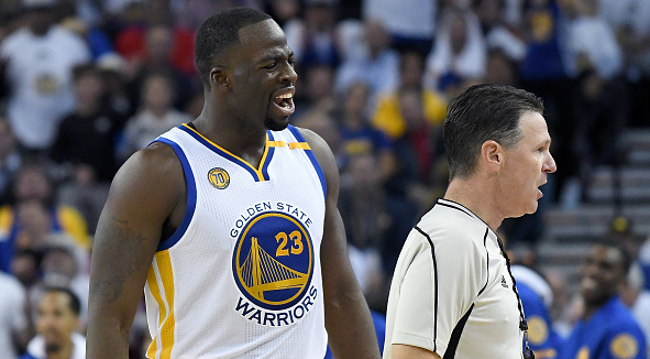 Draymond Green is one of the most notorious on-court trash talkers in the NBA. He doesn't exactly censor himself off the court, either. He fired an angry missive back at Paul Pierce when he criticized Kevin Durant for joining the Warriors, admitted to wanting to annihilate the Cavs, somehow tried to blame James Harden for his kicking antics, then further defended his dangerously-irresponsible leg flailings by posting pictures of the the original Bad Boy Pistons.
Yet, Green insists that he isn't being as candid as he might like to be at all times. Here's what he told Chris Haynes of ESPN.com:
"I think being in this position that I'm in, you can't necessarily say everything you want to say."

The thought of Green as someone who holds back is mighty difficult to believe.

"Nah, trust me. Trust me. There's a lot that I hold back," Green reiterated with a big grin. "Most of the time, it's just for the betterment of my team. I think in certain situations, especially when you're in a team sport, sometimes you have to take into consideration what others can handle. It's not necessarily what you can handle. And I know some of the stuff I would say, the things that it would bring and it would probably be a distraction, so I stay away from it. I definitely hold back quite a bit."
It's fascinating to think about what we might hear from Green if he had absolutely no filter. Still, Green enjoys a tremendous amount of leeway from the Warriors organization. General manager Bob Myers said in the same article that he's rarely upset about Green's outspoken personality, but added that he often helps him see certain situations and topics from a different perspective, which offers guidance to the fiery forward when he's tailoring his public comments.
Green is one of the most divisive figures in the NBA, and it's precisely this aspect of his personality that makes him so compelling.
(ESPN.com)