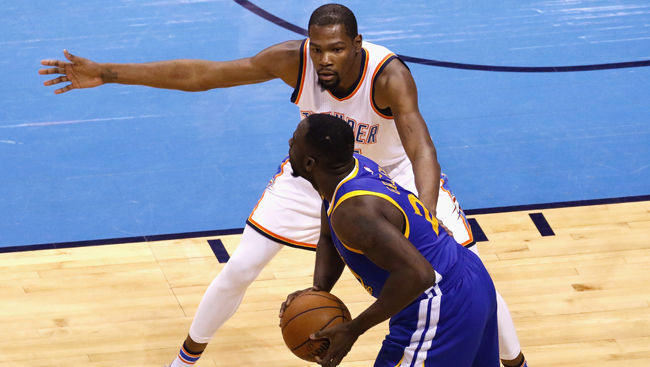 Getty Image
Kevin Durant's decision to sign with the Golden State Warriors pretty much guarantees the Warriors will be the prohibitive favorites to win the title next season, even though the Cavs are the defending champs. Getting Durant to join the team was a real coup for Golden State, who had to compete with Oklahoma City and the Boston Celtics for his services.
At the front of the recruiting, evidently, was the always vocal Draymond Green. After the Durant signing went through, Green spoke on his feelings about the signing, and the role he played in recruiting Durant to leave the Thunder.
Green was asked about what he was saying to Durant to try and persuade him to make the move to the Warriors. He explained the pitch, saying:
"I mean, I was really just telling him about the fun we have together—the fun that this team has and how he would be welcome here with open arms. And it's not about 'I' with us on this team. It's all about 'we' and winning championships. He fits that mold perfectly because that's who he is. It doesn't take him changing his whole game or changing his personality to come join us. He's just going to be Kevin."

So it would seem that Green's main pitch was that Durant would have fun and would fit in. Of course, the fact that he will get to play alongside two-time MVP Steph Curry, as well as Klay Thompson and Green, for a team that won 73 games last season probably doesn't hurt, either. Still, Green put the work in, and now he's excited about having Durant as a teammate. It's all working out for him, even if the Warriors came up just short in Game 7 a few weeks ago.
(Via Sports Illustrated)