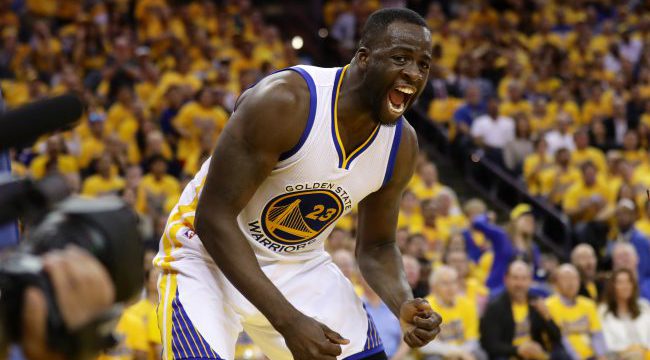 Getty Image
As you probably know by now, Draymond Green's reckless, limb flailing ways have caught up with him, as he is suspended for Game 5 of the NBA Finals. The suspension means that Green is not even allowed in the arena for the game (although he can be there up until two hours before tipoff). So, what's a man to do when he can't be with his teammates, or even in the same proximity as them, during a potential championship-clinching game? Well, you head across the parking lot.
Now, that's not to say that Green is dropping into a local sports bar or something. Across the parking lot from the Oracle Arena is the O.Co Coliseum, where the Oakland Athletics play. The A's have a game Monday night (not exactly the smartest bit of scheduling) against the Texas Rangers. However, Green's attention will be elsewhere, as reportedly he will be watching the Warriors game from a suite in the stadium. One imagines he will not be the only person at the A's game more interested in the outcome of the Warriors game.
The question that arises, amidst all this, is what if the Warriors win the title tonight? What would happen to Green then? Would he be kept away from the celebration and the trophy presentation and so on? Evidently not – reports are that he will be allowed to join any sort of post-game celebrations should the Warriors clinch their second title in as many years. In fact, it's even possible that, if the writing is on the wall, he might be let in a little early even.
So it turns out that sports fans will be able to watch Green tonight. If they turn their eyes to the suites at the A's game, at least. If he suddenly changes his mind, he does have an alternative: